Post Classifieds
Black magic at the Blue Moose
By Drew Butler
On September 18, 2015
One new Iowa band that hit the music scene back in February is the Hex Girls, a group from Mechanicsville, that plays witch rock.
According to band members, the genre is something the band came up with themselves. Members include Kirkwood Community College student Charlie Patterson on lead guitar, Nick Fisher on bass guitar and vocals, John Fisher on rhythm guitar and vocals and the newest member Nico Luerkens on drums.
The Hex Girls started off as a high school band to work on improving their instrumental and songwriting skills. They performed their first show in February of 2015, according to Patterson.
He added that most of the band's shows are in Iowa City, but recently the band has been branching out into Des Moines and the UNI Campus in Cedar Falls. Their most recent show was the 319 Fest at the Blue Moose Tap House in Iowa City.
At its shows, the band plays original music. Patterson said he helps write every song's guitar riffs.
He said the band typically tries to write its own music and stays away from cover songs in favor of creating original songs together as a band, according to Patterson.
Fisher added, "There's a lack of direction in our songwriting approach that's refreshing. Whether it's a good or bad thing, time will tell. I think the lack of direction is self-directed in a way."
He said the process usually consists of bouncing ideas off each other and just riffing at practice until they find something that fits them.
Patterson said he also likes the opportunity to write original music. "One of the songs that I'm most proud of is 'Five Fold Kiss.' I was sitting in my room and came up with the guitar riff and I really liked it. That song is definitely one of the most fun to play on stage," said Patterson.
Get Top Stories Delivered Weekly
More kirkwoodstudentmedia News Articles
Recent kirkwoodstudentmedia News Articles
Discuss This Article
MOST POPULAR KIRKWOODSTUDENTMEDIA
GET TOP STORIES DELIVERED WEEKLY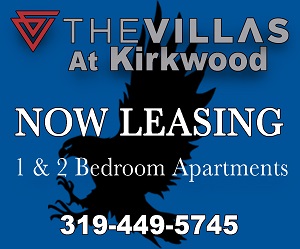 RECENT KIRKWOODSTUDENTMEDIA CLASSIFIEDS
HOUSING

JOBS

FOR SALE

TUTORS
Kirkwood students often admire
Lasik Omaha
doctors that are carving new paths in the field of eye care and transforming the way routine eye procedures are done.