Post Classifieds
Get connected to the action
By Brooke Woolley
On September 18, 2015
Although many students may be focused on classes, homework and group projects, the college provides free social activities and events throughout the semester.
With the new Kirkwood Community College events website, students can email, set up reminders and add certain events to their calendars, all with a click of a button.
Seth Vander Tuig, associate director of Student Life, said, "Something new we're doing through our office specifically is trying to really promote all events and not just Student Life events."
He added, "So, in addition to Student Life, we're also promoting the Rec Center, intramurals, performing arts and also athletics."
Students can go to Kirkwood.edu/events and view all upcoming events for the semester in summary view, calendar view and list view. Each entry gives the time, date and location as well as details about the event.
If students see an event they like, Vander Tuig said, "You can remind yourself to go so you can send yourself a text message, you can send yourself an email 20 minutes before, 12 hours or a day before so it will automatically remind you of what's coming up on campus."
Some students have already found the new website helpful. Amir Sehic, Associate of Science, said, "The page is really helpful in that I'm easily able to find out when events take place. It's nice and organized, which makes it a fast process."
In addition to going online, students can also text "Kirkwood" to 71441, visit Facebook.com/KirkwoodStudentLife and follow @KirkwoodEvents on Twitter for weekly updates on upcoming events.
Brochures will also be available around campus for students with more information about clubs and organizations, Student Life events, Recreation and Intramurals, Eagle athletics, performing arts and instructions on how to get involved and connected.
Upcoming Student Life events include Bingo on Tuesday, Sept. 22, at 11:11 a.m. in Iowa Hall and Comedian Lucas Bohn on Thursday, Sept. 24, at 7:07 p.m. in Iowa Hall.
Get Top Stories Delivered Weekly
More kirkwoodstudentmedia News Articles
Recent kirkwoodstudentmedia News Articles
Discuss This Article
MOST POPULAR KIRKWOODSTUDENTMEDIA
GET TOP STORIES DELIVERED WEEKLY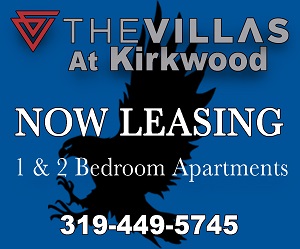 RECENT KIRKWOODSTUDENTMEDIA CLASSIFIEDS
HOUSING

JOBS

FOR SALE

TUTORS
Kirkwood students often admire
Lasik Omaha
doctors that are carving new paths in the field of eye care and transforming the way routine eye procedures are done.