Post Classifieds
Hypnotist worth the hype
By Daniel Fields
On September 18, 2015
Banners in Nielsen Hall and free ice cream in Benton Hall were just a few ways Student Life advertised for hypnotist Brian Imbus's most recent trip to Kirkwood Community College. The result was a packed gymnasium in Johnson Hall on Aug. 27 and, according to students, it was a show that did not disappoint.
Imbus sought to debunk many misconceptions about hypnosis safety early in the show and then recruited 30 volunteers to come on stage.
Imbus stated during his performance that most of the participants he recruited would likely forget their contribution to the event. However, for the audience, the volunteers' renditions of Michael Jackson's "Thriller" and Richard Simon's workout routine will remain memorable.
Geitana Baftiri, Liberal Arts, said, "The event was unforgettable."
According to Baftiri, Imbus's routines were extremely funny. She said her only regret was not catching Imbus's annual visit to Kirkwood last year.
Ariel Bliss, global business, said she thought the event was hilarious. She said she had been hypnotized twice before but enjoyed seeing the event from a spectator's perspective this time.
She said her favorite part of the show involved Imbus asking the participants about their celebrity crush and then having them pretend they were standing in front of them. She said she particularly enjoyed hearing a few of the participants' responses.
Baftiri said she also enjoyed seeing hypnosis from a different perspective. She said it was much different from the hypnosis events she attended in high school.
She added that many of Imbus's routines would have been too risqué for a high school audience, including one response she called "hilarious" about a student needing to see a therapist after watching a pornographic video.
She also commented that after seeing the event, she would like to be hypnotized at some point. She added, "Everything was just funny."
Get Top Stories Delivered Weekly
More kirkwoodstudentmedia News Articles
Recent kirkwoodstudentmedia News Articles
Discuss This Article
MOST POPULAR KIRKWOODSTUDENTMEDIA
GET TOP STORIES DELIVERED WEEKLY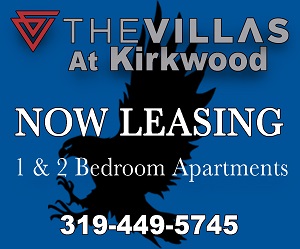 RECENT KIRKWOODSTUDENTMEDIA CLASSIFIEDS
HOUSING

JOBS

FOR SALE

TUTORS
COLLEGE PRESS RELEASES
Kirkwood students often admire
Lasik Omaha
doctors that are carving new paths in the field of eye care and transforming the way routine eye procedures are done.