Post Classifieds
Study abroad: A 'priceless' experience
By kyle Langhurst
On September 18, 2015
Multiple study abroad experiences are offered for Kirkwood Community College students each year.
Study Abroad Advisor Ken Nesbett said fall is an important time for making students aware of the short-term study abroad programs approaching in the upcoming year.
"We have a program for every student. No matter what program, we have something for you," said Nesbett.
He added that 80 percent of the study abroad experiences offered are for students of any educational interest.
For more than 20 years, Kirkwood has offered study abroad in their curriculum and Nesbett said the program has risen to the number six community college study abroad program in the country. Offering 17 short-term experiences and five semester-long experiences, this year's list of programs includes Australia, Brazil, Cuba, Italy, Ireland and many more.
Second year student Nicole Gustafson, Liberal Arts, said she returned from last summer's study abroad experience to Ireland feeling much more comfortable traveling on her own in the future.
"[The experience of traveling] makes you appreciate things you wouldn't," she said.
Though Gustafson said Ireland is about the size of Indiana, she recalled the narrow and outdated roads that made travel more complicated. "Our bus would have to pull over to let other cars through," she said. She added this made her much more grateful for American roads.
Gustafson said she gained an interest in Irish culture and history by learning "from an Irish perspective."
During her two weeks in Ireland, she said she gained six credit hours while visiting Dublin, Galway and Connemara. Gustafson said she chose this program because the itinerary was laid back and students were given a lot of freedom.
"In Dublin, we would go to some museums or tours in the morning and we would be done by 2 p.m. The rest of the day, we could go shopping and do whatever," she said. Some of the highlights she looks back on are a historical walking tour of Dublin and hiking in Connemara.
"It's a good way to travel with new people and it's much less expensive," Gustafson said.
Nesbett said the goal of International Programs is more than getting students to experience study abroad. They also work to bring different cultures into the classrooms "managing the in and the out," he said.
This fall, 17 students from Singapore will be visiting the Cedar Rapids campus for three weeks on a study abroad program. He said the Iowa City campus also expects a group of 19 Danish students.
Discussing Financial Aid and scholarships for study abroad, Nesbett said 80 percent of students who participate use grants, loans and other financial aid to pay the program fee. He added that there is a $1,000-$2,000 Global Advantage scholarship available that 90 percent of students receive. To qualify, students must have a grade point average of 2.5 or higher.
For more information about study abroad programs at Kirkwood, logon to www.kirkwood.edu/studyabroad.
Get Top Stories Delivered Weekly
More kirkwoodstudentmedia News Articles
Recent kirkwoodstudentmedia News Articles
Discuss This Article
MOST POPULAR KIRKWOODSTUDENTMEDIA
GET TOP STORIES DELIVERED WEEKLY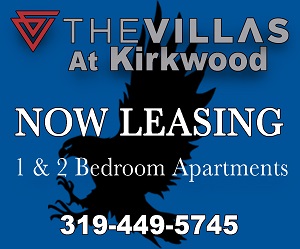 RECENT KIRKWOODSTUDENTMEDIA CLASSIFIEDS
HOUSING

JOBS

FOR SALE

TUTORS
Kirkwood students often admire
Lasik Omaha
doctors that are carving new paths in the field of eye care and transforming the way routine eye procedures are done.