Post Classifieds
POW/MIA flag now under fire
By Megan Johnson, Jeff Sigmund
On October 5, 2015
Recent talk about banning the Confederate battle flag has sparked controversy and placed other flags in the cross hairs of some political activists.
The Prisoners of War and Missing in Action (POW/MIA) flag which flies above the nation's capital, government buildings and cemeteries as well as numerous businesses and private residences, is now one of those flags.
According to www.usflag.org, the POW/MIA flag was developed in 1971 during the Vietnam War in recognition of POW/MIA's. The flag is used today to honor missing military men and women from all wars.
In a recent Washington Spectator article, National Correspondent Writer Rick Perlstein stated the POW/MIA flag is "a symbol of racist hate" and said it should be taken down.
Vicki Terronez, Veteran Services coordinator/school certifying officer at Kirkwood Community College, said, "I have not heard of that as of yet. The flag was not just about the Vietnam War but about soldiers and families and not about racism. Again, it's not just about the Vietnam War but all wars and the casualties that they bring."
Veteran and Kirkwood student Even Guinn, psychiatry, said, "It is as historical as anything else and it shows a respect for all vets, the POW/MIA's in all wars and should be left alone."
Many area government leaders support the continued use of the POW/MIA flag. Zach Beck, aide to U.S. Senator for Iowa Chuck Grassley, stated, "The POW/MIA flag is flying just below the American flag at our offices here in Washington and it will always fly as long as Senator Grassley is in office."
Brook Haugonsen, communication director for U.S. Senator for Iowa Joni Ernst's Press Office, stated, "[Ernst] strongly supports the POW/MIA flag and the senator remains committed to honoring the men and women who have and continue to serve and sacrifice in defense of our freedom."
Terronez said being able to visit her dad, a Korean War veteran who is buried at the Rock Island Arsenal National Cemetery, gives her closure. She added those who have loved ones who remain missing are left without the opportunity for closure and the POW/MIA flag honors them.
Ann Mills-Griffiths, chairman of the board of the National League of MIA Families, said, "We are proud to be part of ensuring those serving today know that should they be captured or listed as missing, our nation will be there for them, to bring them home—alive or dead—persistence and dedication will make it happen."
In addition to the Confederate and POW/MIA flags, others such as the LGBT pride, Nazi and American flags have also been banned in places across the nation.
According to www.advocate.com, "…some right-wingers are urging an end to displays of the LGBT pride flag, which they claim symbolizes bigotry toward Christians."
In the United States and Canada it is still legal to fly the Nazi flag. However, in an article published by money.cnn.com, some businesses, including Amazon, have banned sales of the Nazi flag.
Also, a recent Washington Times article reported, "A Tennessee school district has prohibited students from flying flags, including the American flag, from their vehicles following a dispute over the Confederate banner."
Get Top Stories Delivered Weekly
More kirkwoodstudentmedia News Articles
Recent kirkwoodstudentmedia News Articles
Discuss This Article
MOST POPULAR KIRKWOODSTUDENTMEDIA
GET TOP STORIES DELIVERED WEEKLY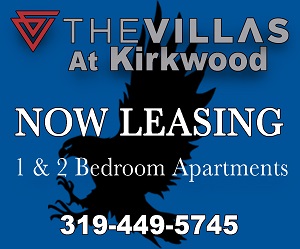 RECENT KIRKWOODSTUDENTMEDIA CLASSIFIEDS
HOUSING

JOBS

FOR SALE

TUTORS
Kirkwood students often admire
Lasik Omaha
doctors that are carving new paths in the field of eye care and transforming the way routine eye procedures are done.