Post Classifieds
Classes often overlooked during registration
By Hillary Omitogun
On October 5, 2015
Classes such as Fundamentals of Oral Communication, Introduction to Computers and Introduction to Business fill quickly each semester at Kirkwood Community College. However, there are some classes offered at the college that are not as well known.
In the Arts and Humanities department, the course Topics and Western Music History involves manuscripts from the Middle Ages, studying how music has evolved. This course typically enrolls less than 15 students, according to Jennifer Cunningham, Arts and Humanities coordinator. She added, "The few students who enroll in this course end up loving it."
Cunningham said another course, Multicultural Ethics, explores the ethics of diverse people, cultures and countries and it also typically has low enrollment. She said the course was created by the National Endowment for Humanities and even won an award. "These classes are taught by excellent instructors who are passionate about their work and students enjoy them," Cunningham said.
Math and science classes are usually the most sought-after but few students enroll in the biotechnology program, which includes designing plants that produce better crops, finding cures for diseases, operating equipment and performing chemical assays.
Heather Strempke-Durgin, English instructor, said the class Editing a Literary Magazine, which focuses on designing and editing the Cedar Valley Divide, was dropped because no students signed up for it. She said Forms of Lit: Nonfiction is another course that had a decline in registration compared to last year.
"It's too bad more people don't take it. We read a lot of good stories and this can help students learn about humanity as a whole," Strempke-Durgin stated.
Some Business and Information Technology classes also have lower enrollment. According, to Chris King, Business and IT department coordinator, classes such as Fundamentals of Lean Process Improvement, which focuses on learning and practicing lean methods of minimizing waste, increasing efficiency and improving quality within organizations, has lower enrollment.
He added that Business Plans for Entrepreneurs and Global Perspectives in Business also have fewer students.
"Some of these classes could be electives for Liberal Arts and they tie in nicely. We create new stuff and it's hard to get it out to everyone," said Chris King, Business and IT department coordinator.
There has also been a decline in interest for paralegal classes. Brooke Strahn-Koller, dean of Social Sciences, said that the program provides job opportunities and there's more need for paralegals now.
She added lately political science classes haven't been getting as many students as they used to either.
Strahn-Koller said she encourages students to read course descriptions and talk to other students about what fun classes they have taken.
Get Top Stories Delivered Weekly
More kirkwoodstudentmedia News Articles
Recent kirkwoodstudentmedia News Articles
Discuss This Article
MOST POPULAR KIRKWOODSTUDENTMEDIA
GET TOP STORIES DELIVERED WEEKLY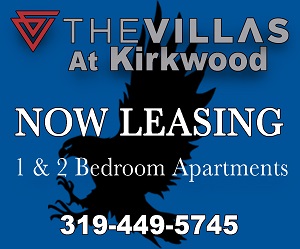 RECENT KIRKWOODSTUDENTMEDIA CLASSIFIEDS
HOUSING

JOBS

FOR SALE

TUTORS
Kirkwood students often admire
Lasik Omaha
doctors that are carving new paths in the field of eye care and transforming the way routine eye procedures are done.