Post Classifieds
Interior design program gives students 'edge'
By Kyle Langhurst
On October 5, 2015
Ranked as the number-two interior design program in the state, Jillissa Moorman, interior design instructor, said Kirkwood Community College's uniquely structured program prepares its students for realistic expectations from employers once they graduate.
Moorman completed her undergraduate in interior design at Iowa State University, where she said the professors inspired her to consider a career in higher learning.
Before deciding to attend graduate school for interior design, Moorman said she gained many valuable career experiences working for Wilson and Associates in Dallas, Texas, the number- two-ranked hospitality design firm in the world at the time.
Moorman said she was offered another position at a hospitality design firm in Dallas but decided to take her career down a different path. Completing the three-year program in two years, Moorman said she earned her MFA in interior design at Iowa State University in 2006.
Soon after, she said she accepted a job to teach at the University of Northern Iowa, where she was the youngest professor of interior design in the nation.
"To me, the idea of being able to impact the world through design meant giving it up myself, so that I could then teach thousands of others so they could change the world through design," Moorman said.
Moorman said she wanted to spend more time in the classroom with students instead of writing and publishing. After submitting an application to Kirkwood three years ago, Moorman said she was called in for an interview and accepted a position soon after.
"Upon starting at Kirkwood, I quickly realized that I could make this program something incredible, so I basically started to re-create the entire program. Every single project, class and content was new and updated so that my students could have even more edge," said Moorman.
She pointed out that the schedule is rigorous and intense but said the structure of Kirkwood's program allows for students to focus exclusively on interior design from start to finish. "We offer the quality courses and content of a four-year interior design program within a two-year time frame and for only a fraction of the cost," said Moorman.
Moorman said she structured the program so students get a year's worth of interior design courses and projects in a single semester. She added that students also have access to a professional-grade resource room, the only one of its kind in Iowa.
According to Moorman, students are required to do an internship at a legitimate interior design company before completing the program.
Program graduate Connor Lockwood said Kirkwood's program has greatly prepared him for the work he is doing today. Lockwood graduated from Kirkwood in May of 2015 and said he completed his internship requirement with Melanie By Design, a local design firm in Cedar Rapids.
"After my internship was complete, I was offered a full -time position and I have been here ever since," said Lockwood.
While at Kirkwood, Lockwood said he learned how to talk and present himself to clients, something he now does every day. "I can say from day one of my internship and job, I never felt like I was unprepared or not fit to be doing this," he said.
After revamping Kirkwood's program, Moorman was nominated by her students for the 2014 IIDA Educator of the Year award. The national design competitions her students compete in have brought home first place titles, something that has never been accomplished by a community college before, she said.
Moorman said some of the best rewards are not recognizable. "When students have incredible portfolios, a great two-year experience and education, awesome new friendships and career options in front of them, that is a pretty good award," she said.
Anyone interested in the program can contact Dept. Coordinator Chris King at chris.king@kirkwood.edu or Moorman at Jillissa.Moorman@kirkwood.edu.
For the full story, visit www.kirkwoodstudentmedia.com.
Get Top Stories Delivered Weekly
More kirkwoodstudentmedia News Articles
Recent kirkwoodstudentmedia News Articles
Discuss This Article
MOST POPULAR KIRKWOODSTUDENTMEDIA
GET TOP STORIES DELIVERED WEEKLY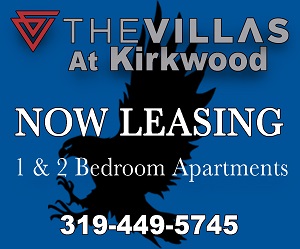 RECENT KIRKWOODSTUDENTMEDIA CLASSIFIEDS
HOUSING

JOBS

FOR SALE

TUTORS
Kirkwood students often admire
Lasik Omaha
doctors that are carving new paths in the field of eye care and transforming the way routine eye procedures are done.