Post Classifieds
' To eat or not to eat'
By Staff Editorial
On October 22, 2015
Many students, at some point in their lives, may remember their mothers telling them, "Breakfast is the most important meal of the day." There have been many debates about whether or not this is true. The amount of data proving this to be true compared to a small amount opposing the idea is overwhelming.
Some of the data as to why breakfast is so important has to do with balancing blood sugar in the body. The longest period of time a person typically goes without food is from dinner the night before to breakfast the morning after.
"After a healthy breakfast, your blood sugar increases a little bit, but it will take a while for your body to absorb it," said Eric Rimm, Sc.D., a professor of epidemiology and nutrition at the Harvard School of Public Health in Boston. "So you might not be hungry for lunch for five hours."
According to greatist.com, another important reason not to skip breakfast is that prolonged fasting might lead to a bigger than normal boost in "hunger hormones" such as ghrelin, encouraging a person to overeat at the next meal, leading to spikes and dips in glucose. "Over time, if your pancreas is constantly producing insulin to compensate for high levels of glucose, it will burn out and you'll develop diabetes," Rimm said.
Breakfast is essential for those trying to lose weight. If the body's blood sugar is out of balance, it will not produce endocrines and metabolize to the amount needed to help the body process fat. This will cause the body to lose energy quickly as it will not supply the body the power it needs to develop lean muscle.
What makes for a healthy breakfast? Here are five fast, easy breakfasts for those with a hectic schedule.
1. Cold cereal: Cereal is loaded with nutrients that get the body going, satisfy the body's needs, and help your mental capacity. Beware of those that are high in sugar and salt, however.
2. Hot cereal: A bowl of oatmeal and a whole grain slice of toast will do the trick, as well.
3. Smoothies: Smoothies have become very popular recently, and provide a great abundance of protein and vital nutrients. Be sure to get a variety of additives to keep them from getting boring. There are free online recipes for many different five minute smoothies. Just use Google.
4. Zapped omelet: Scramble two eggs in a microwave dish, toss in a variety of favorite veggies, cook for one minute in the microwave, add shredded cheese, cook for 30 more seconds and serve.
5. Night before oats: Use a slow cooker, add water, oat meal grain, fruit and slow cook on low over night. When the alarm goes off in the morning, breakfast is ready.
Breakfast can be a time- manageable meal if one desires it to be so. As midterms approach, one way to stay alert in class and promote overall health is to eat breakfast. However, students should make it a habbit all semester long for optimal effects.
Get Top Stories Delivered Weekly
More kirkwoodstudentmedia News Articles
Recent kirkwoodstudentmedia News Articles
Discuss This Article
MOST POPULAR KIRKWOODSTUDENTMEDIA
GET TOP STORIES DELIVERED WEEKLY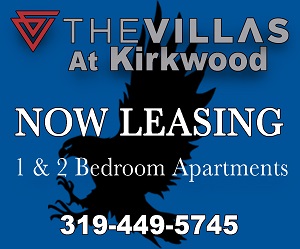 RECENT KIRKWOODSTUDENTMEDIA CLASSIFIEDS
HOUSING

JOBS

FOR SALE

TUTORS
Kirkwood students often admire
Lasik Omaha
doctors that are carving new paths in the field of eye care and transforming the way routine eye procedures are done.