Post Classifieds
Take a trip with the Oculus Rift
By Mikayla Gates
On October 22, 2015
The Oculus Rift, available at EagleTech, provides a virtual reality experience that can transport users to places all over the world.
Craig Kuhens, technology-purchasing specialist at EagleTech, said he is very excited about the new technology. "The Oculus Rift is a virtual reality experience that transports you into any world you can think of," he said.
The Oculus Rift has not yet been released to consumers but the DK2 model, now available at Kirkwood Community College, has been given to the school to showcase the technology and get students excited, according to Kuhens.
Kuhens said he hopes this technology will be available for consumer use sometime this spring. It won't be hard for everyone to have one in the future since the Oculus will be accessible through gaming consoles and TVs. The Oculus has a world for everyone, including space gaming, roller coasters, traveling to other countries and more, but it also has a purpose beyond the gaming community.
According to Kuhens, the Oculus Rift can also be used for remote interactions, education, training and simulation, mental therapy, architecture and modeling and impossible experiences.
Kuhens said the Oculus Rift has already been used for training in some parts of Asia. "The Oculus was used in a whole room to train workers on an oil rig. It saved money but also left room for mistakes, unlike real-life training," he said.
According to Kuhens, the Oculus can also be used to treat anxiety and post-traumatic stress disorder by allowing users to enter a controlled environment to help confront and overcome symptoms.
Get Top Stories Delivered Weekly
More kirkwoodstudentmedia News Articles
Recent kirkwoodstudentmedia News Articles
Discuss This Article
MOST POPULAR KIRKWOODSTUDENTMEDIA
GET TOP STORIES DELIVERED WEEKLY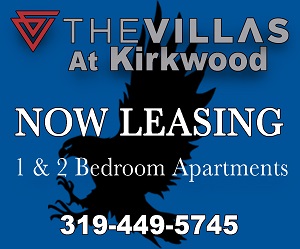 RECENT KIRKWOODSTUDENTMEDIA CLASSIFIEDS
HOUSING

JOBS

FOR SALE

TUTORS
Kirkwood students often admire
Lasik Omaha
doctors that are carving new paths in the field of eye care and transforming the way routine eye procedures are done.