Post Classifieds
Kickstarting the day with breakfast
More coffee, less disease, more 'empty calories', less nourishment
By Kyle Langhurst
On October 23, 2015
As the colder weather approaches, concerns about the health of students, faculty and staff are at the forefront at Campus Health.
Kim Pritts, Campus Health lead nurse, said that a large percentage of the health care visits she gets are preventable. "Many students drink too much and get themselves injured or they don't get enough sleep. I can't say specifically but a large number of visits we get are preventable," she said.
Pritts said she has health tips for new students who are just beginning their college experience. "Eat healthy," she said. "Pack small, healthy snacks so you won't be tempted to go to the vending machines or skip eating all together."
Another simple health tip is to wash hands frequently to prevent the spread of germs, according to Pritts.
In addition to eating healthy, Pritts said students should also be aware of other ways to keep themselves safe. "Use condoms when engaging in sexual activity," said Pritts. She said there is a stand right inside the Campus Health office in Iowa Hall with free condoms and the office also offers free STD testing.
Pritts said some of her main concerns for new students' health are alcohol abuse, unsafe sex and anxiety or depression. "This is, for many students, the first time living on their own, doing whatever they want to do, whenever they want to do it. They start going out to parties a lot, drinking too much or doing recreational drugs and end up hurting themselves or getting sick," she said. "And if students are not going out to parties, sometimes they feel left out and use alcohol or drugs to deal with those feelings."
Pritts said she also has worries about the mental health of new students who may overload themselves and develop anxiety or suicidal thoughts. "Students are sometimes afraid to ask for help," said Pritts. "We want students to know we are there for them and that we do care."
She added that if Campus Health can't provide the right type of help for students then they will find help for students who may need a stronger support system or more specialized services.
Get Top Stories Delivered Weekly
More kirkwoodstudentmedia News Articles
Recent kirkwoodstudentmedia News Articles
Discuss This Article
MOST POPULAR KIRKWOODSTUDENTMEDIA
GET TOP STORIES DELIVERED WEEKLY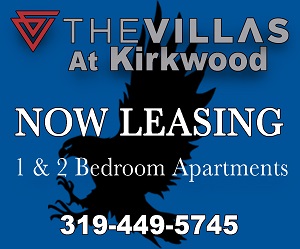 RECENT KIRKWOODSTUDENTMEDIA CLASSIFIEDS
HOUSING

JOBS

FOR SALE

TUTORS
Kirkwood students often admire
Lasik Omaha
doctors that are carving new paths in the field of eye care and transforming the way routine eye procedures are done.