Post Classifieds
Agricultural program grows to number one
By Kyle Langhurst
On November 2, 2015
"Community College Week" named Kirkwood Community College's Agricultural Sciences program number one among two-year schools awarding the most A.A.S. degrees the previous year. This national ranking in the September 2015 edition of the publication bumped Ohio State out of the number one position.
"From the previous year to the current ranking, we saw a 16 percent growth," said Scott Ermer, dean of Agricultural Sciences at Kirkwood.
He added, "This ranking is based off the total number of students who have completed, earned their degree and moved on."
Ermer explained Kirkwood's "excellent" faculty and staff that are both knowledgeable and connected in the industry are the reason for the department's success. Additionally, Ermer said "[Kirkwood's] facilities are the best around."
He said the facilities include training centers where students gain hands-on experience with equipment and machinery. He added that Kirkwood also runs a 645-acre farm and pasture where students are "learning by doing."
Ermer said the program continually stays connected with the industry to remain updated on skills needed by employers. As a result, he said Kirkwood's curriculum shows continuous improvement. "We don't accept status quo. We are doing our best to produce the best skilled worker out there," he said.
According to Ermer, the future is bright for these workers. "Educational institutions are only meeting about 60 percent of workforce demand in this field," he explained. "There is a huge demand for agriculture jobs."
Ermer also mentioned the projected world population by 2050 will be more than nine billion people. With this increased need for food production, he said he expects an increase in agriculture jobs as well.
However, Ermer said, "There are needs all across the board." Ermer explained that the agriculture industry has a whole "support structure" that helps to meet the needs of modern agriculture production.
Eric Knipper, agricultural geospatial technology and member of the Ag Tech Club, said he "quickly learned how combine a lot of technology into agriculture."
In this two-year program, students take courses in Global Positioning Systems (GPS), Geographic Information Systems (GIS), analysis and data collection. This field, Ermer mentioned, is one of the many tools needed in modern agricultural production.
"Since my program of study is so new, there are so many jobs available. A lot of new companies that provide farmers with this GPS technology need people like us to install and fix it," said Knipper who is in his second year of the program.
He said the program's internship requirement helped him gain a "real-life feel" of what he is doing in his major. Knipper said, "We do a lot of fundraising so we can travel around the Midwest and visit companies that use the same GPS equipment that we work on so we get even more experience."
Though occupations related to agriculture production are in need, Ermer said programs like Landscape Production and Design or Turf and Athletic Course Management are just as important in "improving quality of life." Ermer said, "Anybody who wants to work in agriculture can find a job...there's a place for them."
Ermer said by teaching technical skills in combination with leadership skills and soft skills needed to succeed in the field, the department is supporting the agricultural sciences industry by educating its future.
For the full story, logon to www.kirkwoodstudentmedia.com
Get Top Stories Delivered Weekly
More kirkwoodstudentmedia News Articles
Recent kirkwoodstudentmedia News Articles
Discuss This Article
MOST POPULAR KIRKWOODSTUDENTMEDIA
GET TOP STORIES DELIVERED WEEKLY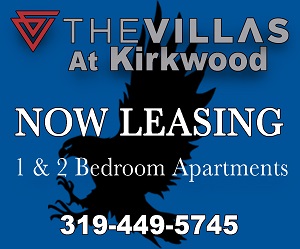 RECENT KIRKWOODSTUDENTMEDIA CLASSIFIEDS
HOUSING

JOBS

FOR SALE

TUTORS
Kirkwood students often admire
Lasik Omaha
doctors that are carving new paths in the field of eye care and transforming the way routine eye procedures are done.