Post Classifieds
'SALUTE' suspicious behavior
By Staff Editorial
On November 2, 2015
Due to recent violence on college campuses across the nation, Americans are being encouraged to report any suspicious activity. The campaign, known as "If You See Something, Say Something" has taken the country by storm.
According to dhs.gov, "If You See Something, Say Something," is a national campaign that raises public awareness of the indication of terrorism and terrorism-related crime, as well as the importance of reporting suspicious activity to state and local law enforcement.
The U.S. Department of Homeland Security emphasizes reporting behavior rather than appearance, according to dhs.gov. The site also states it is not right to falsely report someone based on ethnicity, race or any other appearance-related characteristics.
Terrorists and other criminals live among us. It is important to remember that they may be fellow students, friends, people off the street or even teachers. Not one single group of people are left off of the suspect list. Appearance, nationality or language is not enough to take action, however. It is important to rely on experience, judgment and common sense. Nationalterroralert.com stated, "You CAN only identify a terrorist threat by observing or hearing about suspicious activity that may lead to a criminal act."
Nationalterroralert.com has a helpful acronym when it comes to reporting suspicious behavior: Size, activity, location, uniform, time, and equipment (SALUTE). Size includes gender, age, number of people and physical descriptions.
Activity refers to what the suspicious person is doing and location is the exact location the activity is happening. Uniform describes what the person is wearing, and time is the date and duration of the activity.
Lastly, equipment includes vehicle, license plate, camera and weapon. Using SALUTE to report suspicious behavior will help any individual provide the information needed for law enforcement to 'catch the bad guy.'
With all this being said, the recent shootings in universities across the country may have been prevented if "See Something, Say Something" had been honored. Many of the suspects in recent news reports on school shootings posted their intentions on social media and were left unreported. This is not OK.
It is critical to report any suspicious behavior before the act in question has been committed. DHS emphasizes that no suspicious behavior is too little.
It is better to be safe than sorry. Do not fear getting in trouble because nothing appeared to have happened. Go with your gut and trust your instincts. If you are feeling uncomfortable, something could be wrong.
Bottom line, "If You See Something, Say Something."
Get Top Stories Delivered Weekly
More kirkwoodstudentmedia News Articles
Recent kirkwoodstudentmedia News Articles
Discuss This Article
MOST POPULAR KIRKWOODSTUDENTMEDIA
GET TOP STORIES DELIVERED WEEKLY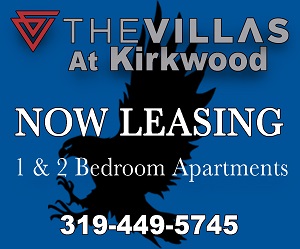 RECENT KIRKWOODSTUDENTMEDIA CLASSIFIEDS
HOUSING

JOBS

FOR SALE

TUTORS
Kirkwood students often admire
Lasik Omaha
doctors that are carving new paths in the field of eye care and transforming the way routine eye procedures are done.