Post Classifieds
History: 'How did we get from there to here?'
By Megan Johnson
On November 2, 2015
A famous paraphrased aphorism states, "Those who cannot learn from history are doomed to repeat it", according to townhall.com.
Jed Peterson, history instructor for Distance Learning at Kirkwood Community College, emphasized, "White-washing history makes it so we don't have to deal with it today."
Both statements agree that students and Americans, who often do not care to learn their history, will likewise be very surprised when history repeats itself.
Peterson said students today do not understand why things change. He said students cannot answer, "How did we get from there to here?" He further mentioned that by solely learning dates and names, students do not learn history.
Peterson said there are many other things history instructors can talk about, such as migration of people, gender issues, racism from its beginnings, technology and much more.
Peterson added, "Not every story has a moral." History instructors should not feel obligated to come up with morals for every lesson, Peterson explained.
History instructors can get caught up in "American Exceptionalism - America is the best" syndrome, said Peterson. By doing this, Peterson said it "alienates kids who aren't rich white men."
Students of different backgrounds or gender can feel as if "people like me never did anything," said Peterson. He mentioned that students need to feel like they are part of history, otherwise they lose interest.
Peterson said his goal as a history instructor is to form his lesson plans "thematically, not chronologically." If an instructor only focuses on chronological events, they miss the connections, explained Peterson. No matter the age of the student, storytelling the facts while connecting themes works well, he added.
According to collegian.com, many of the true facts of history are being left out of history books. Blogger Hallie Gardner described her tourist experience while visiting Washington, D.C. as "shocking", according to collegian.com.
Gardner said she was on a group tour that included about 14 middle school students. The guide began to ask the students trivia questions about American history and Gardner said she was shocked by the student's lack of responses. The tour guide asked questions such as "Can you tell me who were some of the signers of the Declaration of Independence? Name some of our founding fathers. Can you name one of the 10 amendments?", according to collegian.com. Gardner said that many of the students gave the guide blank stares and squirmed uncomfortably (www.collegian.com).
According to www.iowacore.gov, the Iowa Core currently states "understanding (history or) the past provides context for the present and implications for the future." This means that the past, present and future are all intertwined.
The new Iowa Core standards have a new approach to learning that may help history to better come alive for current and future students. This new standard will allow teachers to play around with their lesson plans, while including concepts missed by other schools in the past.
The new concepts and goals are more generalized. For example, two goals for fifth graders include "understanding the consequences of government decisions (and) understanding the people, events, problems, and ideas that were significant in creating the history of their state" (iowacore.gov). Many of these goals were not included in past core standards.
According to townhall.com, the purpose of the United States educational system is "primarily to provide students with the requisite knowledge and skills to live more successful lives." The new Iowa Core standards' purpose is to allow students to achieve this goal.
For more information on history that is being out of the classroom, look for "Lies My Teacher Told Me," by James W. Loewen.
Get Top Stories Delivered Weekly
More kirkwoodstudentmedia News Articles
Recent kirkwoodstudentmedia News Articles
Discuss This Article
MOST POPULAR KIRKWOODSTUDENTMEDIA
GET TOP STORIES DELIVERED WEEKLY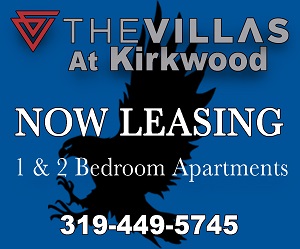 RECENT KIRKWOODSTUDENTMEDIA CLASSIFIEDS
HOUSING

JOBS

FOR SALE

TUTORS
Kirkwood students often admire
Lasik Omaha
doctors that are carving new paths in the field of eye care and transforming the way routine eye procedures are done.