Post Classifieds
Registration holds keep students on track
By Enzo Nagao
On November 20, 2015
A new policy was recently established by the Advising and Transfer Center at Kirkwood Community College. It will require all first-year Liberal Arts majors with fewer than 35 non-high school credits to have a meeting with their designated advisor prior to registering for spring classes.
Until students seeking to get an A.A. or an A.S. in Liberal Arts meet with an advisor, they will not be able to register for the next semester, according to Dean of Students Melissa Payne.
"These are the students that we work with the most. When you look at information about persistence - retention from Fall to Fall - who are the students who come back, year to year? What you begin seeing is that the first six-to-eight weeks of a new student's first term is a critical time," Payne said.
According to the National Center for Education Statistics, only around 58 percent of full-time students and 35 percent of part-time students who attended Kirkwood for the first time in 2013 returned for the Fall semester in 2014.
Payne said, "One of the key things that impacts a student's ability to see their success at an institution is to have some formal vision of what that looks like. Our goal is to really have students to have an early academic planning experience with someone who knows how to help with planning."
Payne pointed out that the Advising and Transfer Center in Iowa Hall is not the only one at Kirkwood and that students can get their holds cleared by other, more specialized advisors specific to their degree program.
"We just want to see students be successful and accomplish their goals," Payne said.
"What I hear over and over from students is that 'If it's important for us to do, why haven't you made us do it yet?'" Payne added.
The hold, which went into effect on Oct. 1, ensures that students can not register for the Spring 2016 semester until they meet with an advisor.
"My hope is that students will just feel more connected to this place. Sometimes just meeting with that one person who kind of helps you on your way is exactly what's needed to feel like you're a part of what it means to be at Kirkwood," said Payne.
Students can logon to EagleNet to find out the name of their advisor or they can visit the Advising and Transfer Center in 108 Iowa Hall.
Get Top Stories Delivered Weekly
More kirkwoodstudentmedia News Articles
Recent kirkwoodstudentmedia News Articles
Discuss This Article
MOST POPULAR KIRKWOODSTUDENTMEDIA
GET TOP STORIES DELIVERED WEEKLY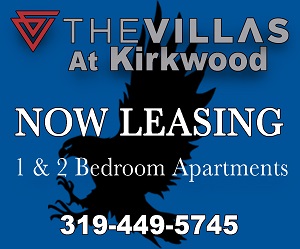 RECENT KIRKWOODSTUDENTMEDIA CLASSIFIEDS
HOUSING

JOBS

FOR SALE

TUTORS
Kirkwood students often admire
Lasik Omaha
doctors that are carving new paths in the field of eye care and transforming the way routine eye procedures are done.