Post Classifieds
Court-apppointed special advocates help kids
By Letter to the editor
On November 30, 2015
In 2014, there were 23,562 reported child abuse and neglect cases in Iowa.
Child abuse and neglect is defined as: Any recent act or failure to act on the part of a parent or caretaker, resulting in death, serious physical or emotional harm, sexual abuse or exploitation, or an act or failure to act which presents an imminent risk of serious harm (childwelfare.gov).
Who listens to these children's stories and wishes? Who is there to see first-hand what these children are dealing with? Most importantly, who is there to be a voice for these children? The answer to all of these questions is a Court Appointed Special Advocate (CASA).
A CASA is appointed to a case by a judge to become the eyes and ears for a child. CASAs serve an effective role in courts for abused and/or neglected children by strengthening efforts to ensure that each child is living in a safe, permanent and nurturing home.
A CASA only has one or two cases at a time, resulting in a close relationship with each child. They meet with their child at minimum once a month. While doing this, they develop a report to submit to court containing information about the child and the parents' efforts toward alleviating the risk of harm.
Because of the one-on-one interaction between a CASA and a child, the child's abilities, personality and developmental concerns are included in each report. The CASA will then make a recommendation to the court in the best interest of the child.
Interested Kirkwood students can volunteer to become a CASA and be there for a child by lending a listening ear, understanding the child's needs and, most importantly, giving them a voice.
To learn more about becoming a CASA, visit the website childadvocacy.iowa.gov or contact your local CASA coordinator.
Samantha Hauser
Kirkwood Student
Get Top Stories Delivered Weekly
More kirkwoodstudentmedia News Articles
Recent kirkwoodstudentmedia News Articles
Discuss This Article
MOST POPULAR KIRKWOODSTUDENTMEDIA
GET TOP STORIES DELIVERED WEEKLY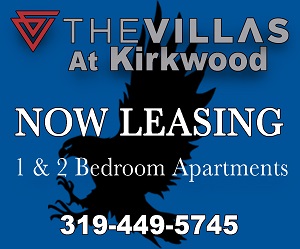 RECENT KIRKWOODSTUDENTMEDIA CLASSIFIEDS
HOUSING

JOBS

FOR SALE

TUTORS
Kirkwood students often admire
Lasik Omaha
doctors that are carving new paths in the field of eye care and transforming the way routine eye procedures are done.