Post Classifieds
Star Wars: The trailer unleashed
By Drew Butler
On November 30, 2015
The original "Star Wars" film was released in 1977 and since that time, the public has been given five more movies and multiple video games, toys and spin-off series.
"Revenge of the Sith", released in 2005, was the last of the prequels, a trilogy of movies that took place chronologically before the three films that were made in the 1970s and 80s. After the last release, Lucasarts did not plan to make any additional feature films for the franchise until Disney bought Lucasarts in 2012, according to USATODAY.com.
After the buyout, Disney began work on the next Star Wars movie, "The Force Awakens". Since the announcement, Disney has released trailers featuring original actors from the movies, including Harrison Ford and Mark Hamill.
Although it will have some original actors, Disney has been working to make changes for the new movie. It brought in new droid designs, stormtrooper armor and new lightsaber designs.
Disney has been keeping most of the story under wraps however. The trailers feature the new parts of the franchise, as well as improved visuals, but the plotline has not been released.
Although there has been little released, it is speculated that Hamill will be playing the veteran master Jedi with a new apprentice, working together to take down the Dark Side in classic "Star Wars" style. New Sith acolytes have also been introduced, such as Kylo Ren.
The movie is set to release Dec. 18 and tickets for opening day are selling out throughout the U.S. The movie has already grossed $6.5 million in ticket sales.
Kirkwood student Devin Mcguire stated, "I'm a little nervous for the new movie to be honest. I don't want them to ruin the franchise but at the same time, I know that they have taken a long time to make the movie and put a lot of work into recapturing 'Star Wars'."
He added, "I also think that their [the actors'] careers are on the line as well. If they mess 'Star Wars' up, then it will be a huge dark spot on the director's and producers' careers, too."
Get Top Stories Delivered Weekly
More kirkwoodstudentmedia News Articles
Recent kirkwoodstudentmedia News Articles
Discuss This Article
MOST POPULAR KIRKWOODSTUDENTMEDIA
GET TOP STORIES DELIVERED WEEKLY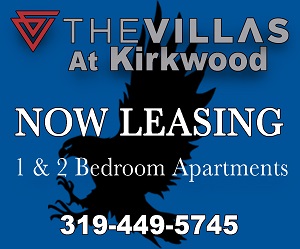 RECENT KIRKWOODSTUDENTMEDIA CLASSIFIEDS
HOUSING

JOBS

FOR SALE

TUTORS
Kirkwood students often admire
Lasik Omaha
doctors that are carving new paths in the field of eye care and transforming the way routine eye procedures are done.