Post Classifieds
Eagle Spotlight
Falstead dedicated to health, body and garden
By Jennae Jungers
On November 30, 2015
From active military duty to body building to gardening, Kirkwood Community College student Seth Felstead, graphic communications technology, has many interests.
Unable to pursue his passion for sports after graduation high school, Felstead said he joined the military. He was a jet engine mechanic for four years on active duty and spent another four years inactive.
During his time of inactivity, he said he began to power lift until he got hurt from an injury. As a result, Felstead said he turned to body building.
Felstead said he has been body building for four years. He said he enjoyed participating in football, wrestling and track and this lead to his current interest in lifting weights.
According to Felstead, "Body building is the hardest sport a person could compete in." He said the reason it is so difficult is due to constant dieting and staying on top of a daily routine. Felstead said he pre-makes all his meals for the week and spends between an hour and an hour and a half in the gym training every day.
Felstead explained the multiple diets he uses while body building. His latest is "reverse dieting" where Felstead said he cuts 1,000 - 1,500 calories from his normal caloric intake and slowly progresses toward the full amount again.
Felstead said this diet is used after practicing the ketosis diet during which time he ate only 60 carbohydrates a week. According to Felstead, this diet takes a lot of strength, causing changes in mood and headaches. He said, "It's a lot of hard work and self motivation."
Attending school at Kirkwood for six years, Felstead said it has been very hard to balance school and body building. In addition to change, in moods and headaches, Felstead said dieting makes it difficult to give his full focus in class. Felstead is taking three classes this semester and said he plans to take more next semester.
Felstead said he went back to school after working in a factory for three years. While working in the factory, he said it was difficult to maintain a social life. Always working late night shifts, he decided to quit and go back to school.
In addition, Felstead said he has taken an interest in gardening. He said he likes plants and enjoys having fresh produce instead of food with added preservatives or unknown treatments.
Felstead also does vinyl work for trucks out of his home, something he said is a good side job while attending school.
Get Top Stories Delivered Weekly
More kirkwoodstudentmedia News Articles
Recent kirkwoodstudentmedia News Articles
Discuss This Article
MOST POPULAR KIRKWOODSTUDENTMEDIA
GET TOP STORIES DELIVERED WEEKLY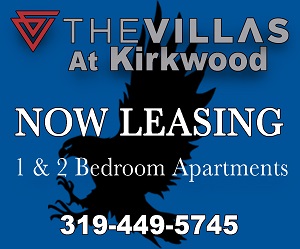 RECENT KIRKWOODSTUDENTMEDIA CLASSIFIEDS
HOUSING

JOBS

FOR SALE

TUTORS
Kirkwood students often admire
Lasik Omaha
doctors that are carving new paths in the field of eye care and transforming the way routine eye procedures are done.