Post Classifieds
Muslim guest speaker addresses stereotypes
By Hillary Omitogun
On December 7, 2015
On Nov. 19, Zohra Sarwari, an International speaker and author from Afghanistan, spoke at Kirkwood Community College. Her speech was titled "I Am Not a Terrorist."
In light of the recent terrorist attacks carried out in Paris by The Islamic State of Iraq and Syria (ISIS), Sarwari said her speech was intended to remind people that the minority of Muslims who are terrorists do not represent the beliefs or practices of most Muslims.
Sarwari began by defining a terrorist as anyone who inflicts terror or pain on another human without caring, or a feeling of remorse. She asserted that even bullying is a form of terrorism and that terrorism is more global than people think.
Sarwari went on to give many examples of Christian and even Buddhist terrorists that are not on the news, or who are simply referred to as psychopaths.
"It's human nature to criticize people and point fingers, but every country and human has faults," she said.
She acknowledged that the media says "All Muslims aren't terrorists, but all terrorists are Muslims," which she labeled as an oxymoron.
Sarwari added that terrorism is not limited to any one faith, gender or color, and no one group should be considered solely at fault.
Sarwari then cited a poll which stated that over 50 percent of Americans oppose Muslims.
She explained that a Muslim "is someone who submits to God is Islam," and that sometimes verses in the Quran are taken out of context Sarwari also discussed "Jihadi John," a moniker for Mohammed Emwazi, who has been involved in several ISIS attacks.
According to Sarwari, this moniker is offensive to Muslims because "Jihad" describes personal development, and it should not be associated with terrorism.
She ended her speech by describing the various kinds of Hijab. "We wear Hijabs because the Quran instructed us to do so," she concluded.
After the presentation was over, Krista Amundson, Liberal Arts, stated that "I really liked Zohra's speech. It made me want to learn more about other religions and cultures."
Madeline Avery, Liberal Arts, added that, "I learned not to judge people before knowing more about what they believe and why. I also learned that not everything in the media is true. We rely a lot on the news and it sometimes twists the truth to make things interesting."
Get Top Stories Delivered Weekly
More kirkwoodstudentmedia News Articles
Recent kirkwoodstudentmedia News Articles
Discuss This Article
MOST POPULAR KIRKWOODSTUDENTMEDIA
GET TOP STORIES DELIVERED WEEKLY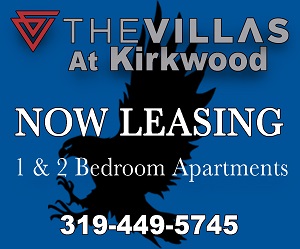 RECENT KIRKWOODSTUDENTMEDIA CLASSIFIEDS
HOUSING

JOBS

FOR SALE

TUTORS
Kirkwood students often admire
Lasik Omaha
doctors that are carving new paths in the field of eye care and transforming the way routine eye procedures are done.