Post Classifieds
Put your best foot forward
By Staff Editorial
On December 7, 2015
To some students, Kirkwood Community College is a time to start a new chapter, to make something new out of previous knowledge and skill, or even just to earn credit at a modest rate and then transfer on to their dream school.
College is the first step into students' professional lives, and Kirkwood Community College is a playground of opportunities. With its motto, "Start here go anywhere", students truly have the opportunity and skill set to do anything academic or otherwise upon graduation, from Kirkwood.
How students approach college is how they will latently approach life. In college, you are given deadlines and due dates. If you do not meet those times or dates, tough luck, you are done. Much like a job, if you do not show up on time or meet the deadline, you are out. Such habits get them put people in last place, or looked at as the weakest link. All in all, the key is to take action and show initiative.
College is a playground of opportunity. With many clubs and organizations, in addition to a variety of classes, it is possible for any student to take action in an area they have a passion for or to try something new. However, it starts with them. Signing up, showing up to meetings on time, and contributing as much as possible showcases the qualities one has to share with those around them, including in the classroom.
Instructors are more than just teachers, they are the greatest multipurpose tools for students to have at their advantage. Teachers are your eyes and ears for how to interact in the classroom, from how consistent one is in coming to class, to how much they contribute to class discussions, to how well you are able to take the information given to you and apply it.
A teacher can also be a student's professional friend, someone they can ask for help, not only about class work, but also for personal help and advice.
Many teachers will help a student get resources or contacts to help them further. Teachers are the ones who write letters of recommendation, especially if one's field of study is specifically related to that class. Teachers are there to help students take action and show initiative.
Consistent, timely contact and good habits may seem small, but they can truly go a long way into one's professional career and personal life.
Get Top Stories Delivered Weekly
More kirkwoodstudentmedia News Articles
Recent kirkwoodstudentmedia News Articles
Discuss This Article
MOST POPULAR KIRKWOODSTUDENTMEDIA
GET TOP STORIES DELIVERED WEEKLY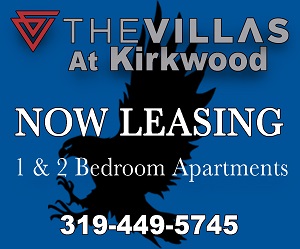 RECENT KIRKWOODSTUDENTMEDIA CLASSIFIEDS
HOUSING

JOBS

FOR SALE

TUTORS
Kirkwood students often admire
Lasik Omaha
doctors that are carving new paths in the field of eye care and transforming the way routine eye procedures are done.