Post Classifieds
Students prepare for spring musical
By Beth Meyer
On December 7, 2015
Students participating in "Quilters", the second Kirkwood Community College stage production of the academic year, are already in the process of practicing and putting the set together.
The musical is about pioneer women moving west in the 1800s. "The production is centered around a mother, Sarah, and her six daughters, though the actresses will be telling the stories of all pioneer woman. The play sort of represents all women of that time," Said Rick Anderson, director of "Quilters." "It's all about the strength of women," he said.
Often, pioneer women spent the majority of their time during the journey to the west sewing quilts, as they had no real shelter and needed to be able to keep their family warm. "These women needed to be able to survive the cold," said Anderson. "But quilting isn't just about the warmth, it's about the communication between women. Quilting was often the only thing these women were doing together; mother and daughter, friend and friend. It's about connections between woman."
The set for the musical is being designed and constructed by Shelly Ford. "We'll have a simple platform," said Ford. "It'll have some patterning over it, much like a lot of quilts have, and flowing levels on the stage that allow for the women to flow around, in a way, and tell their story. We'll also have a sky drop and maybe some projections for the show."
Emily Ganfield, costume designer for "Quilters", has also been hard at work with the dresses for each of the women. "The costumes will be historically accurate," Said Ganfield. "We'll be acquiring them from reenacting companies around Iowa. However, I'll be simplifying the shapes and the underclothing, since the actresses will be doing a lot of dancing. I guess I would call it 'modified period accurate,'" he added.
Everyone working on the show will take a break from rehearsals and set work during winter break, but will come back together after the new year. "Quilters" will be performed Feb. 18 - 21, 2016. The show is free for all Kirkwood students and faculty with a valid EagleCard.
Get Top Stories Delivered Weekly
More kirkwoodstudentmedia News Articles
Recent kirkwoodstudentmedia News Articles
Discuss This Article
MOST POPULAR KIRKWOODSTUDENTMEDIA
GET TOP STORIES DELIVERED WEEKLY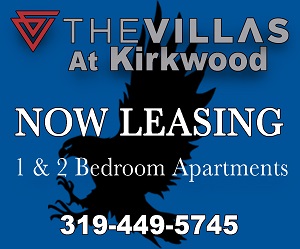 RECENT KIRKWOODSTUDENTMEDIA CLASSIFIEDS
HOUSING

JOBS

FOR SALE

TUTORS
Kirkwood students often admire
Lasik Omaha
doctors that are carving new paths in the field of eye care and transforming the way routine eye procedures are done.