Post Classifieds
Oscar Nominations Announcement Prompts Controvery
By Enzo Nagao
On January 29, 2016
As Oscar season comes around again, controversy has once more arisen over the issue of diversity and recognition in the Hollywood industry.
Following the announcement of the Oscar nominees - a list comprised predominantly of white actors and industry members for the second year in a row - backlash over the lack of diversity arose greatly.
Prominent actors Will and Jada-Pinkett Smith both affirmed that they would be boycotting the awards, prompting other influential actors and industry giants like Spike Lee to join in their cause. The #Oscarsowhite movement set off a firestorm of media attention and drew almost every celebrity both inside and out of Hollywood into the debate, prompting heated discussion over diversity and equality in the U.S. film industry.
While the move has prompted the Academy's President, Cheryl Boone Isaacs, to announce a decision to take "dramatic steps to alter the makeup of our membership" (The Hollywood Reporter), criticism over the controversy still remains strong. Although many white actors - including those nominated for Oscars - have come out in support of the boycott, other prolific celebrities have bashed the #Oscarsowhite movement.
One example is African-American actress, Janet Hubert, of 'The Fresh Prince of Bel-Air", who took to the internet to retort against the Smiths' actions, calling their actions hypocritical and entitled.
Hubert said, "I find it ironic that somebody who has made their living and has made millions and millions of dollars from the very people that you're talking about boycotting just because you didn't get a nomination, just because you didn't win?" Hubert said in her video. "That's not the way life works, baby" (The Hollywood Reporter).
Other actors, like Michael Caine and Charlotte Rampling, thought that the movement was unfair to White actors, and ignored merit in favor of political correctness, an opinion that has since drawn massive criticism.
Still, boycotting the awards may be the wrong solution to an ever-growing problem. While the galvanizing and surprising move of speaking out against the Oscars has already wrought incremental change, the Oscar nominations this year are only indicative of a larger problem permeating every level of our modern society - not just Hollywood.
For instance, while the #Oscarssowhite controversy centers on Black actors getting snubbed for awards, this year's nominations are also missing Asian, Latino, and Native American actors. Likewise, questions regarding the gender pay gap, crooked accounting and political correctness still remain major problems facing the entertainment industry, yet no real progress has been made towards fixing any of them as of yet.
In an interview on the "Graham Norton Show", actor and rapper Ice Cube spoke on the larger issues at hand, as well as on the lack of Academy recognition for his dramatic movie, "Straight Outta Compton".
"We don't do movies for the industry," Ice Cube offered. "We do movies for the fans, for the people. And the industry, you know, if they give you a trophy or not or pat you on the back or not, it's nice but it's not something that you should dwell on. We got accolades from all levels, from our core fans to our curious fans, from people who didn't even think they wanted to see that movie."
Ice Cube's comments have been hailed as being the most moderate and realistic acknowledgement of the entire issue by actors and moviegoers alike. It's no secret that Hollywood, and much of the entertainment industry, is rife with prejudice and unequal treatment. Female actresses make significantly less than their male counterparts, which is indicative of a growing issue with gender perception and equality.
Yet by boycotting the Oscars, influential leaders like the Smiths and Spike Lee are, in effect, casting themselves as pariahs to the undeniably White-dominated industry. By alienating themselves from other influential industry members, they hamper their own goals in the long run.
What is needed is not a divisive and controversial move like a boycott, but a firm, united push by actors of all races, genders and creeds to eliminate institutionalized racism and corruption within Hollywood.
Will and Jada Smith, along with Spike Lee, should be applauded for their willingness to stand up to institutionalized racism. Yet through the process of making their point, they may have missed the bigger picture. This issue is not one that should be focusing on something that is relatively inconsequential as the Oscars - it should be one that is discussed and acted on throughout the United States, and the world, as a whole.
Get Top Stories Delivered Weekly
More kirkwoodstudentmedia News Articles
Recent kirkwoodstudentmedia News Articles
Discuss This Article
MOST POPULAR KIRKWOODSTUDENTMEDIA
GET TOP STORIES DELIVERED WEEKLY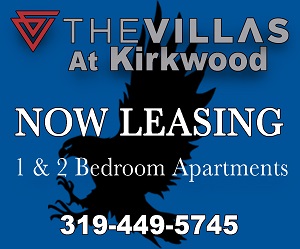 RECENT KIRKWOODSTUDENTMEDIA CLASSIFIEDS
HOUSING

JOBS

FOR SALE

TUTORS
Kirkwood students often admire
Lasik Omaha
doctors that are carving new paths in the field of eye care and transforming the way routine eye procedures are done.