Post Classifieds
Reviewing KCACTF 5
A Midwest Theater Festival
By Chris Hanian
On January 29, 2016
The Midwest region has a college festival/convention every year for theater. This year the Midwest regions hosted the event at Normandale Community College near Minneapolis and Bloomington. Not just that but every region has a festival where students come to compete and learn in all things theater. I had the privilege of attending KCACTF Region 5 (Kennedy Center American College Theater Festival) Kirkwood students got to enjoy this week long trip for free thanks to the funding of the Arts and Humanities Department, students got sleep comfortably in hotel rooms and not in the Kirkwood van.
It was a tremendous experience but the fact of the matter is it isn't well known around Kirkwood. I didn't even know it existed until it was mentioned last year when only two people went. This year we had eleven people go for a range of different things. It's a very professional festival with means of getting college students out into different theater fields. A few examples would be Professional auditions with Midwest theater companies, Stage management, directing, costume design, Theater Criticism, 10-mintue plays and so much more. There's tons of workshops for anything you can imagine during this week long festival. There were six main stage college productions that get invited each year to perform during the festival. One of the biggest events that took place were the Irene-Ryan events, when two candidates are selected from each school based on their performance in a show to perform two scenes (if they make it all the way the semifinals) and a monologue. They chose a partner and perform in front of judges where they got feedback based on their performance.
Overall it's an amazing experience where one can do anything theater related. Instructors and theater professionals come from all over to judge performances and host workshops. There's even excursions to local theaters around the certain area. This year it was near Minneapolis so there was even an excursion to the Guthrie Theater. There's more information at http://www.kcactf5.org/ where you can figure out how to get involved next year. Or even ask Kirkwood's Theater director Rick Anderson. It's a great experience not just for Theater Majors but even people that simply enjoy theater as a whole
Get Top Stories Delivered Weekly
More kirkwoodstudentmedia News Articles
Recent kirkwoodstudentmedia News Articles
Discuss This Article
MOST POPULAR KIRKWOODSTUDENTMEDIA
GET TOP STORIES DELIVERED WEEKLY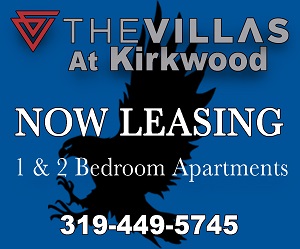 RECENT KIRKWOODSTUDENTMEDIA CLASSIFIEDS
HOUSING

JOBS

FOR SALE

TUTORS
Kirkwood students often admire
Lasik Omaha
doctors that are carving new paths in the field of eye care and transforming the way routine eye procedures are done.