Post Classifieds
Lack of Diversity in the Oscars
By Hillary Omitogun
On February 1, 2016
The Academy Awards, more famously known as the Oscars, have always been a pinnacle of achievement in the movie and music industries. On January 14, the nominees for the Oscars' various categories were announced, and it created an uproar. Specifically, backlash and criticism followed the announcements as a lot of people questioned the Academy's exclusion of minorities. As a result, the hashtag #OscarsSoWhite started trending on Twitter.
Historically, minorities have not fared well with the Oscars. Only 15 African-Americans have won the Oscars since the ceremony's inception in 1929. In addition, only one Hispanic actor has won in the "Best Actor" category, and three Asians have won in various categories.
Obviously, the Oscars should be about talent and not skin color. However, the imbalance widens even further when actors and actresses of color are shut out in favor of White actors and actresses winning awards for playing minorities in movies, otherwise known as White-washing. Likewise, when White actors are nominated for their minor roles in movies made by Black people, such as Sylvester Stallone recently being nominated for his supporting role in the movie "Creed", one questions the fairness of the Academy's decisions, and in fact, the entire Hollywood institution.
Jada Pinkett-Smith recently made a video in response to the controversy, encouraging the Black community to "stand in our power". According to her, "the Academy has the right to acknowledge whoever they choose, to invite whoever they choose, and now it's our responsibility to make the change … let's pull back our resources to make programs for ourselves that acknowledge us in ways we see fit that are just as good as the so-called mainstream ones." She ended her video by stating that she would not be attending the upcoming Academy Awards or watching it on television. Other Black celebrities, such as Spike Lee, have also decided to boycott the Awards.
Even the Academy's President, Cheryl Boone Isaacs, has issued a statement condemning the all-White nominee list. "I am both heartbroken and frustrated about the lack of inclusion," she wrote. She added that it is a difficult but important conversation, and that the time has come for big changes.
White actors have also acknowledged this issue and agree with the concern over the lack of diversity, not only in the Oscars, but in Hollywood generally. George Clooney, for instance, listed successful movies with minorities as the lead that should have earned nominations this year, such as "Concussion", "Beasts of No Nation" and "Straight Outta Compton". According to Clooney, "I think that African Americans have a real fair point that the industry isn't representing them well enough. I think that's absolutely true …minorities should be given more opportunity."
On the other hand, people like Michael Caine, who has voiced the argument that "you can't vote for an actor just because he's Black," fail to realize that the hundreds of people who get to decide on the nominees are mostly older, White males who are used to the movies they grew up watching at a time when race relations were not very good. These men, like Caine, fail to understand that "unconscious prejudice," as actress Lupita Nyong'o calls it, or unintended discrimination, comes to play by assuming an equal playing field for all races and other minorities in the movie industry.
Actress Reese Witherspoon has stated that she would love to see a more diverse voting membership when it comes to media awards. Others argue that White actor Leonardo DiCaprio has not yet won an Oscar, even though most of his movies have been extremely successful at the box office. However, DiCaprio has been nominated for six Academy Awards, a privilege most minorities have not been given.
In response to the backlash, the Academy has stated that it would be creating three new government seats to be filled by women and people of color. It also insists that it will make its leaders and voting member pool much more diverse by the year 2020.
Get Top Stories Delivered Weekly
More kirkwoodstudentmedia News Articles
Recent kirkwoodstudentmedia News Articles
Discuss This Article
MOST POPULAR KIRKWOODSTUDENTMEDIA
GET TOP STORIES DELIVERED WEEKLY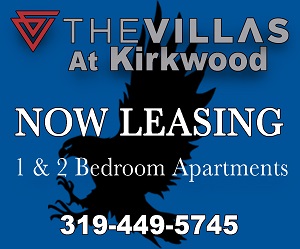 RECENT KIRKWOODSTUDENTMEDIA CLASSIFIEDS
HOUSING

JOBS

FOR SALE

TUTORS
Kirkwood students often admire
Lasik Omaha
doctors that are carving new paths in the field of eye care and transforming the way routine eye procedures are done.