Post Classifieds
Music, entertainment industry deaths
By Jennae Jungers
On February 11, 2016
This year, the world has already lost many famous people who are being mourned for their wonderful contributions to film and music.Popular singer-songwriter, David Bowie, known mainly for his music, such as "China Girl", "Rebel Rebel" and "Changes", died at age 69 from cancer. Bowie was also in the hit movie "The Labyrinth," where he played the popular role of the Goblin King, and other renowned roles in movies such as "The Prestige" and "Gunslinger's Revenge".
Alan Rickman, a popular and beloved actor, died at age 69 from pancreatic cancer. Rickman is known mainly for his popular role as Snape in the movie adaptation of J.K. Rowling's famous book series, "Harry Potter". Rickman is also known for others roles in films like "Sense and Sensibility", "Love Actually", "Die Hard" and "Hitchhiker's Guide to the Galaxy".
Glenn Frey, member and founder of the Eagles, died this year from pneumonia at age 67.
Dan Haggerty, a.k.a. "Grizzly Adams", of "Grizzly Mountain" fame, died at age 74 from a spinal tumor.
Rene Angelil, Celine Dion's husband and manager, died at age 73 after a long battle with throat cancer.
Nicholas Caldwell, co-founder and singer with the California R&B group, the Whispers, died at age 71 from congestive heart failure.
Voice actor Brian Bedford, best known for his role in the animated version of "Robin Hood", as well as some appearances in "Murder, She Wrote", "Cheers" and "Frasier", died at age 80 from cancer.
Other famous musicians lost this year include Dale Griffin, the British drummer from the band Mott the Hoople, who died after battling Alzheimer's disease at age 67. Hall of Fame R&B artist, Otis Clay, died at age 73 from a heart attack. Craig Strickland, a rising country singer and front man for Backroad Anthem, died at age 29 from hypothermia.
Other actors lost in 2016 include Richard Libertini, an American stage, film, and television actor, with roles in movies such as "Fletch" and "Popeye". Libertini died at age 82 after a two-year battle with cancer.
Actor David Margulies, from the "Ghostbusters" films, "Ace Ventura", and other movies, died at age 78 from cancer. Finally, Jason Wingreen, the voice actor of the famous role of Boba Fett in "Star Wars: The Empire Strikes Back", passed away at age 95. Many great actors and singer-songwriters have passed away this year, leaving behind many sad fans. However, their legacies will live on as fans share the experiences and memories of their work with future generations.
Get Top Stories Delivered Weekly
More kirkwoodstudentmedia News Articles
Recent kirkwoodstudentmedia News Articles
Discuss This Article
MOST POPULAR KIRKWOODSTUDENTMEDIA
GET TOP STORIES DELIVERED WEEKLY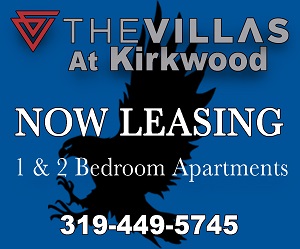 RECENT KIRKWOODSTUDENTMEDIA CLASSIFIEDS
HOUSING

JOBS

FOR SALE

TUTORS
Kirkwood students often admire
Lasik Omaha
doctors that are carving new paths in the field of eye care and transforming the way routine eye procedures are done.