Post Classifieds
Behind the scenes
A look at the costumes and set design of 'Quilters'
By Paige Gerjets, Ziadah Ziad, Jillian McKee
On February 15, 2016
This spring, students of Kirkwood Community College (KCC) have been rehearsing a drama musical, "Quilters." This American West story follows the lives of seven 18th Century pioneer women as they venture through life and the hardships that come with it. Emily Ganfield, costume designer, and Shelby Ford, assistant professor of theater, teamed up to create classic ambience through costumes and setting.
In designing the costumes, Ganfield said she not only put more thought on the style to represent fashion of prairies during that period, but also carefully selects each character's costume based on the looks and their personalities throughout the musical. She said she connects the character and the costume through the style, colors, patters and the fabrics. According to Ganfield, costumes are more than a wrapping material. She said costumes tell identity, time, characters and cultures.
Besides putting deep thought into the costumes, Ganfield said she invests a significant amount of time. The costumes were made by hand, one costume took about 20 to 24 hours of labor to create. However, Ganfield stated that she enjoyed choosing the fabrics for this musical due to all the fun patterns and different material that she was able to work with. To get these costumes done, Ganfield said she gets students involved in this project.
In addition to the work that goes into costume design prior to opening night, many hours have also been dedicated to set design. "Quilters" is mostly covered by wooden platform. Ford, with the all female cast and crew chopped and painted the wood. The other property such as frames, quilters and old American furniture styles that set on the stage reflects an old period setting. According to Ford, setting is one of the elements that strengthen a quality of a drama.
Both Ganfield and Ford stated that "Quilters" is not only interesting because of its costumes and setting but also because it shows women power behind it. Quilters will be performed in Feb.18-21 in at Ballantyne Auditorium. The plays begins at 7.30 p.m. on Thursday to Saturday and at 2 p.m on Sunday Matinee. Admission is free for all Kirkwood Students, faculty and staff.
Get Top Stories Delivered Weekly
More kirkwoodstudentmedia News Articles
Recent kirkwoodstudentmedia News Articles
Discuss This Article
MOST POPULAR KIRKWOODSTUDENTMEDIA
GET TOP STORIES DELIVERED WEEKLY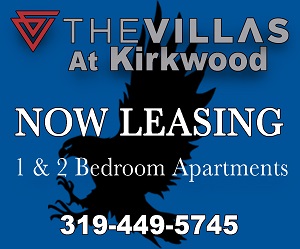 RECENT KIRKWOODSTUDENTMEDIA CLASSIFIEDS
HOUSING

JOBS

FOR SALE

TUTORS
COLLEGE PRESS RELEASES
Kirkwood students often admire
Lasik Omaha
doctors that are carving new paths in the field of eye care and transforming the way routine eye procedures are done.