Post Classifieds
A look at major players from the Civil Rights Movement
Staff Editorial
By Jennae Jungers
On February 16, 2016
February is more than just a month to celebrate the special people in one another's lives. It is also National Black History Month, which is set aside for reflection about the significant contributions and accomplishments made by black Americans and those of African decent. Honoring black history began in 1915 with the start of the Association for the Study of Negro Life and History (ASNLH), according to the History Channel's website, history.com.
The organization then sponsored a national Negro History week in 1926, choosing the second week of February to coincide with the birthdays of Abraham Lincoln and Frederick Douglass, also according to history.com. Additionally, the site reported President Gerald R. Ford officially recognized Black History Month in 1976.
"Although blacks have been in America at least as far back as colonial times, it was not until the 20th century that they gained a respectable presence in the history books," said Elissa Haney, a writer for infoplease.
February is the time to remember all the accomplishments black people have made in America and the importance of diversity. The United States grows more and more diverse each year and there is so much to put into perspective when thinking about the history of black Americans.
This month, Americans of all descents should take a moment to reflect on previous events that have made America what it is today.In the end, all humans are made from the same material growing, learning and maturing together. The color of one's skin is, in the end just a color. Take that away and what is inside all looks the same.
February is a time to reflect on the amazing diversity of our country, but it is also important to keep in mind the sacrifices and knowledge put forth by black Americans year round. It is a month to remember the accomplishments of those sometimes left out of history books and to remind people of the diverse roots of America. America is full of diversity. The spread of different cultures is something people should keep in mind and the many experiences black Americans have contributed should not be taken for granted.
Get Top Stories Delivered Weekly
More kirkwoodstudentmedia News Articles
Recent kirkwoodstudentmedia News Articles
Discuss This Article
MOST POPULAR KIRKWOODSTUDENTMEDIA
GET TOP STORIES DELIVERED WEEKLY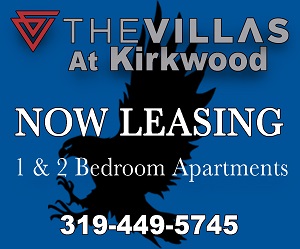 RECENT KIRKWOODSTUDENTMEDIA CLASSIFIEDS
HOUSING

JOBS

FOR SALE

TUTORS
Kirkwood students often admire
Lasik Omaha
doctors that are carving new paths in the field of eye care and transforming the way routine eye procedures are done.