Post Classifieds
Don't play with plagiarism
By Enzo Nagao and Hillary Omitogun
On February 16, 2016
Plagiarism is perhaps one of the biggest ethical issues facing educators, professionals and politicians in the modern world of instant information and increased interconnectivity. According to politics and news website Politico, politicians like Joe Biden, Rand Paul and Vladimir Putin, as well as a host of authors, songwriters, artists and high-profile individuals have been accused of plagiarism. To educate and reduce plagiarism at Kirkwood Community College, classes such as Composition teach students how to cite sources and write without plagiarizing. "A lot of departments struggle with it," said Kirkwood Librarian Sue Miller. "It's unfortunately a lot more commonplace today, with the Internet and the ability to copy-and-paste anything you want, whenever you want," she added.
With the accessibility of the Internet, it is now easier than ever to plagiarize passages, articles or comments. According to the Kirkwood Library's official page on plagiarism, standard Kirkwood policy states that students will fail the assignment upon the first offense, fail the class upon the second and become subject to suspension upon the third. Steve Price, English professor, pointed out that students plagiarize when they panic and try to slide it by. He said some students have been copying and pasting all their lives and don't know that there are consequences for doing that in college. "Some students think if everything they write is from another source, they sound stupid but it's wrong to use ideas and not accredit them," he added.Price also asserted that frequent citing is important and not just citing one paragraph or using whole paragraphs and not putting them in quotation marks.
Students should be prepared to defend their work if asked. Associate Professor of Speech Tony Arduini said, "It's really more of a 'guilty until proven innocent' here at Kirkwood. You really need to prove that you're innocent, otherwise you're subject to punishment. I really like to be sure before I accuse a student of plagiarism but that may not be the case with everyone."Arduini emphasized the issue is predominantly an ethical one, pointing out that plagiarizing is both cheating yourself and your audience. By plagiarizing, he asserted, students deprive themselves of the ability to learn anything and they also deprive their audience of the ability to hear their own ideas and opinions. According to both Miller and Arduini, plagiarizing is also surprisingly easy to detect. "A student will be writing a paper, in their own words, and then all of a sudden their vocabulary changes. It's very easy for the teachers to say 'Hey, what happened here? All of a sudden they got a Ph.D.', so it isn't as hard to pick out as students think," Miller said. Arduini reinforced that irregularities in a person's verbal speech and deviations from the course content often throw up a red flag, alerting teachers to plagiarism. "At the end of the day, it's really not an academic thing. Politicians, business professionals and yes, educators, can get in trouble for this. It's really just an ethical decision," said Arduini.
Get Top Stories Delivered Weekly
More kirkwoodstudentmedia News Articles
Recent kirkwoodstudentmedia News Articles
Discuss This Article
MOST POPULAR KIRKWOODSTUDENTMEDIA
GET TOP STORIES DELIVERED WEEKLY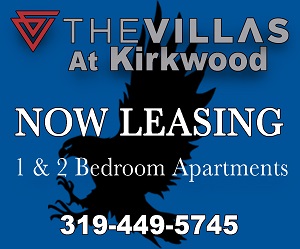 RECENT KIRKWOODSTUDENTMEDIA CLASSIFIEDS
HOUSING

JOBS

FOR SALE

TUTORS
Kirkwood students often admire
Lasik Omaha
doctors that are carving new paths in the field of eye care and transforming the way routine eye procedures are done.