Post Classifieds
Nursing program reaches the top 1%
By Amanda Enos, Denise Kassi, Ziadah Ziad
On March 2, 2016
Students in the Kirkwood Community College nursing program have the highest test scores in the country when it comes to two-year per-requisite preparation for their degrees.
According to the KCC Report, of the 131 students who took the National Council Licensure Examination (NCLEX-RN) 130 students passed, meaning 99.24 percent met the requirements.
Lauri Hughes, department coordinator of Nursing, stated NCLEX is a comprehensive test that covers every piece of material learned from the start of the program until the students take the test.
"Nursing is going to be the most rigorous and the most demanding degree because not only we do have a test at the end but in every single nursing class they can get nothing less than a B-," said Hughes.
Ashley Maynard, Kirkwood nursing student, also asserted that her major focus is on critical aspects. Every single test and assignment given for each class is counted, said Maynard.
Hughes added that the strong curriculum is based on material students have already learned. "Anatomy and physiology are the foundation of the well sounding and developed curriculum," said Hughes.
"Students learned anatomy and physiology a long time ago but it's not like they learned and damped that knowledge; they go back and recall it and have to utilize that on an ongoing basis," she said. Students can choose one of five locations in Iowa to take the NCLEX exam.
These locations include Davenport, Dubuque, Sioux City, Des Moines and Iowa City. Before taking the exam nursing students must go through a background check, get fingerprints at a police station and apply online.
Kirkwood students have to pay around $400 to take the exam, which is already included in their tuition.
"I would say that the Kirkwood nursing program is extremely affordable and they can complete the entire program and their technical courses and purchase all of their textbooks, lab kits and their scrubs and everything that they need for about $20,000," said Hughes.
She also mentioned that Kirkwood's nursing program is a well-respected program not only throughout the community but also throughout hospitals, other professionals in this field and other colleges that the students want to transfer to after they graduate.
"If they choose to transfer they do not have to take the comprehensive exam again," said Hughes, adding that "seventy five percent of Kirkwood nursing students stay in the area after they graduate to serve the community."
Get Top Stories Delivered Weekly
More kirkwoodstudentmedia News Articles
Recent kirkwoodstudentmedia News Articles
Discuss This Article
MOST POPULAR KIRKWOODSTUDENTMEDIA
GET TOP STORIES DELIVERED WEEKLY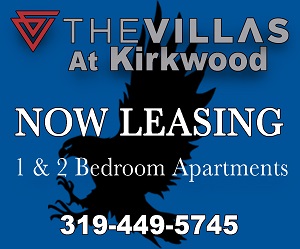 RECENT KIRKWOODSTUDENTMEDIA CLASSIFIEDS
HOUSING

JOBS

FOR SALE

TUTORS
Kirkwood students often admire
Lasik Omaha
doctors that are carving new paths in the field of eye care and transforming the way routine eye procedures are done.