Post Classifieds
Music genres impact listeners throughout history
By Hillary Omitogun
On March 10, 2016
Music has always been a phenomenon throughout various historical periods. From the pre-medieval era to the 20th century, there has been a quintessential blend of influences that has shaped today's music. While some people find music therapeutic, others use it as a form of expression or even as a way to shut the world out. Madeline Avery, Liberal Arts, describes music as "a way to communicate feelings that I can't find words for on my own." Regardless of the fact that there are more songs than there are people in the world today, music lovers never seem to get enough of this sensation. Those behind music have also influenced today's fashion, slangs and other mainstream ideologies.
Words like "love," "flawless," "cruise" and so on are now more conventional as a result of famous 21st century artists like Beyoncé, Taylor Swift and Luke Bryan amongst many others. Vivian Ceron, Finance, "loves music because even though you can't see it, you can feel your whole body synchronize to the beats of your favorite songs."
People have several preferences when it comes to music which is why there are more than a thousand music genres and sub-genres. According to several studies, the most popular music genres are:
Hip Hop
Rock
Pop
R&B
Country
Alternative
Dance/EDM
Gospel
Holiday
Electronic
Latin
Reggae
Jazz
Metal
Classical
Blues
Indie
Children's Music
There are also a lot of lesser known music genres. Macmillian dictionary provided the definitions to some of these genres.
Goth: Defined as a loud modern music with a strong beat.
Ambient: a relaxing and meditative music without loud and strong beats.
Folk music: Traditional music from certain countries or communities, usually said to be developed by ancestors who weren't professional musicians.
Highlife: Developed in West Africa from jazz in the 20th century.
Impressionism: A form of music developed in France that uses sound to produce feelings and moods.
Soul Music: African American music developed in the 1960s, combining R & B with pop, rock 'n' roll and gospel styles with a strong beat.
Thrash: Combines punk and speed metal.
Polyphony: Combines several different tunes at the same time.
Most people want music that can complement their moods and feelings. An angry person might want to listen to something loud like heavy metal while someone that was heartbroken would probably prefer sad songs like ballads. Generational differences can also be told by music, a baby boomer is more likely to like classic rock songs by Elvis Presley than hardcore rap songs by DMX or Eminem.
Music is more than just a couple of sounds jammed together with auto tune and an appealing voice, for some, music is the only thing that can make them feel alive and zestful. Most artists also spend a lot of time and energy making music because they know the impact it has on people. As Friedrich Nietzsche once stated, "without music, life would be a mistake."
Get Top Stories Delivered Weekly
More kirkwoodstudentmedia News Articles
Recent kirkwoodstudentmedia News Articles
Discuss This Article
MOST POPULAR KIRKWOODSTUDENTMEDIA
GET TOP STORIES DELIVERED WEEKLY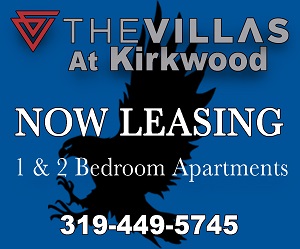 RECENT KIRKWOODSTUDENTMEDIA CLASSIFIEDS
HOUSING

JOBS

FOR SALE

TUTORS
Kirkwood students often admire
Lasik Omaha
doctors that are carving new paths in the field of eye care and transforming the way routine eye procedures are done.