Post Classifieds
Critics discuss flaws of candidates
By Cantaberry Yonathan
On March 24, 2016
As the election gets closer, critics continue to discuss the flaws of each presidential candidate – Hillary Clinton, Ted Cruz, Bernie Sanders, Donald Trump and John Kasich.
Hillary Clinton - Due to some mistakes she has made in the past, some critics do not want Hillary Clinton to win the election. One of the incidents included the attack at Benghazi, Libya, in which Hillary was responsible for the security of the American Embassy.
According to washingtonpost.com, the incident was first announced as a protest against an anti-Muslim video but turned out to be a terrorist attack. Washingtonpost.com also stated that hours after her press statement about the protest, she sent an email to her daughter, Chelsea Clinton, stating an "al Qaeda-like group" caused the attack.
Ted Cruz - Many of Ted Cruz's flaws, although the conjecture here depends on everyone's personal opinions and beliefs, includes the fact that he strongly agrees with capital punishment, opposes same-sex marriage and said he wanted to build a wall along the Texas/Mexico border years before Donald Trump echoed the same sentiment in the recent Belo debate, according to Patterico.com.
Bernie Sanders - Although Bernie Sanders is one of the favored candidates among college students, some critics disagree with his ideals, mainly arguing he is too idealistic. In addition, he is a socialist, according to economist.com, which means he believes in the distribution of wealth.
Donald Trump - One of Trump's most iconic promises includes building a giant wall between border of Mexico and Texas. His cost estimates have varied from $4 to $12 billion. According to late-night talk show host John Oliver, a construction company estimated for the wall to be built it would cost $25 billion. And, the congress budget estimates that wall maintenance costs within seven years would exceed the initial cost.
John Kasich - John Kasich is positioned as one of the most moderate and balanced of the current presidential candidates. However, critics say he is short-tempered and is known to throw a tantrum. According to thefiscaltimes.com, during a conference he snapped and raised his voice at Randy Kendrick, major contributor and wife of Ken Kendrick, owner of the Arizona Diamondbacks, when she asked about his motivation for Medicaid expansion.
Get Top Stories Delivered Weekly
More kirkwoodstudentmedia News Articles
Recent kirkwoodstudentmedia News Articles
Discuss This Article
MOST POPULAR KIRKWOODSTUDENTMEDIA
GET TOP STORIES DELIVERED WEEKLY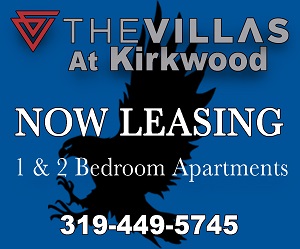 RECENT KIRKWOODSTUDENTMEDIA CLASSIFIEDS
HOUSING

JOBS

FOR SALE

TUTORS
Kirkwood students often admire
Lasik Omaha
doctors that are carving new paths in the field of eye care and transforming the way routine eye procedures are done.