Post Classifieds
Students manage time, classes at start of spring semester
By Mbololwa Mundia
On March 25, 2016
For Kirkwood Community College students, managing school on top of work, athletics, clubs and other personal obligations can be a lot to handle. As students begin the spring semester, it is important to make sure to remember not to overdo it. Signing up for 4-6 classes sounds reasonable for the first week but then when midterms come around, students often fi nd themselves asking, 'Why so much to do?' Managing classes can be difficult, especially with work and other activities added onto the plate. Kirkwood Community College has a variety of ways to help with just that.
It is recommended for first year students to take a College 101 class for example. This 3-credit course demonstrates tools that students can use in order to be successful in their first year and beyond. In addition, when working with an advisor on a class schedule, you will be given a sheet of paper that has the days Monday through Friday with times when classes are commonly held. With detailed times and marked activity hours, this is an easy tool that all students can use at anytime during the semester. Managing classes can be like learning to juggle, but with many advisors and tips from some classmates, students can fi nd ways to be successful. The biggest key to make sure that you are on top of things is time management.
"Stay at school, after school once all classes are done. It's a quiet place to work, and efficient way to retain information from what I just learned," suggested Serana Goodall, a first year diagnostics assistant student taking three classes. Other students, like Loshika Embrey, secondary education, choose to take more classes at a time. "I take six classes," Embrey explained. "I'll have my planner, I write everything in my planner and each day in my planner. I go through the classes that are due the next day then go back to what was assigned that day." Embrey also suggested, "Study in 20 minute intervals for an hour and take five minute breaks to go for a walk or something to wake up your brain."
Get Top Stories Delivered Weekly
More kirkwoodstudentmedia News Articles
Recent kirkwoodstudentmedia News Articles
Discuss This Article
MOST POPULAR KIRKWOODSTUDENTMEDIA
GET TOP STORIES DELIVERED WEEKLY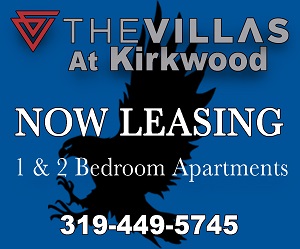 RECENT KIRKWOODSTUDENTMEDIA CLASSIFIEDS
HOUSING

JOBS

FOR SALE

TUTORS
Kirkwood students often admire
Lasik Omaha
doctors that are carving new paths in the field of eye care and transforming the way routine eye procedures are done.