Post Classifieds
Iowa state professor gives the 44th lecture of the Mel Oliven series
By Hillary Omitogun
On March 29, 2016
On March 8th, Dr. Bong Wie, Vance Coffman Endowed Chair Professor at Iowa State University and founding Director of the Asteroid Deflection Research Center, gave a speech titled "Preventing an Armageddon."
The speech is part of the Mel Oliven lecture series. It is the 44th lecture of the series which was originally introduced in memory of Mel Oliven, longtime Astronomy and Physics professor at Kirkwood Community College, to educate Kirkwood students and the public on scientific and environmental issues. The Oliven Lecture began in 1977 and is the longest running lecture series at Kirkwood. The lecture was made possible by the Oliven Endowment of the Kirkwood Foundation.
In summary, Wie's speech focused on the political, mathematical and environmental decisions that should be made by people to prevent an Armageddon. He began with asteroid terminologies like NEO (Near Earth Objects) which NASA defines as comets and asteroids that have been nudged by the gravitational attraction of nearby planets into orbits that allow them to enter the Earth's neighborhood or within 1.3 astronomical units of the Sun and NED (Nuclear Explosive Device); any device, whether assembled or disassembled, that is designed to produce an instantaneous release of an amount of nuclear energy from special nuclear material that is greater than the amount of energy that would be released from the detonation of one pound of TNT (trinitrotoluene).
Wie stated that the asteroid defense problems need to be solved and cited NASA missions like the Hayabusa which was launched by Japan in 2003 and returned in 2010. Hayabusa was an operation that collected a surface sample of material from the small asteroid for analysis. In 1978, the Chicxulub crater near the Yucatan Peninsula in Mexico was discovered by geophysicist, Glen Penfield and had a major impact on Earth. Wie mentioned that this asteroid impact which happened 65 million years ago might have caused the extinction of dinosaurs. According to him, nothing happens randomly, more than likely, all events are correlated.
74 million years ago, a two kilometer asteroid struck Manson, Iowa and created the 38 kilometer Manson crater, also known as, Manson Impact Structure. The crater was hidden 20-90 meters below the surface. In 1996, it was proven to be caused my meteor impact. 50,000 years ago, another 50 meter meteorite (asteroid) struck near Winslow, Arizona. There are many other major impact craters in North America. Wie claimed that these events don't just happen but are based on realistic engineering.
He stated that from 2011 to 2014, he and his team were funded by NASA to form an innovative solution to NASA's NEO (near earth objects) impact threat mitigation grand challenge and flight validation mission architecture development. On Feb. 15, 2013, while they were devising their solutions, there was an airburst of 17 meter Chelyabinsk meteor in Russia that was 10,000 tons. 1,500 people were injured, 7,200 buildings were damaged and these damages cost 30 million dollars.
In a subtopic titled "Planetary Defense 101," Wie pointed out different methods of preventing Armageddon based on how much warning time we have after detection of the NEO. Kinetic Impactor or Gravity Tractor for deflection requires sufficient warning times more than 10 years. HAIV (Hypervelocity Asteroid Intercept Vehicle) for warning times shorter than 10 years. The disruption, also known as, dispersive pulverization, is the only option for short warning times less than 5 years. ATLAS (Asteroid Terrestrial-impact Last Alert System) is currently scanning the sky with a prototype camera and telescope, it will be fully launched this year and is expected to provide one day's warning for a 30-kiloton "town killer," a week for a 5-megaton "city killer," and three weeks for a 100-megaton "county killer".
According to him, the government won't act unless the probability of impact is 90% because it costs billions of dollars to get into space but they need to act even if the probability of impact is 1%.
He concluded by mentioning the importance of being informed about incoming asteroids as it can cause more destruction.
Get Top Stories Delivered Weekly
More kirkwoodstudentmedia News Articles
Recent kirkwoodstudentmedia News Articles
Discuss This Article
MOST POPULAR KIRKWOODSTUDENTMEDIA
GET TOP STORIES DELIVERED WEEKLY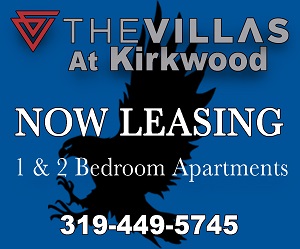 RECENT KIRKWOODSTUDENTMEDIA CLASSIFIEDS
HOUSING

JOBS

FOR SALE

TUTORS
Kirkwood students often admire
Lasik Omaha
doctors that are carving new paths in the field of eye care and transforming the way routine eye procedures are done.