Post Classifieds
Kirkwood one of nine to earn green ribbon
By Chris Hanian
On March 30, 2016
While there are recycling and composting opportunities at Kirkwood Community College, there's a lot more to the school's commitment to the environment than just that.
Kirkwood has been named a Green Ribbon school, which means the college upholds certain etiquette and maintains an overall eco-friendly environment.
According to Tom Kaldenberg, vice president of Facilities, 2015 was the first year that the Green Ribbon was awarded to institutes of higher education across the country and Kirkwood was one of nine selected schools to receive it.
According to the guidelines on the Green Ribbon website, to be eligible for the award, the school must follow three pillars.
First, the school must reduce environmental impact and costs. Second, it must improve the health and wellness of schools, students and staff. Finally, it must provide environmental education across several disciplines, including effectively incorporating STEM (Science, Technology, Engineering, Math), civic skills and green career pathways.
According to Kaldenberg, "Students help by commingling trash, composting food products, cutting back on paper use and even volunteering around campus on landscape and tree projects. They also use our wellness facilities and take courses related to environmental stewardship."
Kirkwood student Elijah Eberly, biochemistry stated he has noticed less garbage outside around campus and that students are using the recycling bins. "I notice most people helping out from time to time," he said.
Instructors also help by educating students on the matter through the courses they teach and the many different green areas where they work.
One of the biggest energy efficient aspects of Kirkwood is its wind turbine that sits on the edge of the main campus.
According to Kaldenberg, the turbine is operated by college staff and is used as a teaching experience for students. It also provides over 800,000 square feet of geothermal heating and cooling to the campus, while providing energy to it as well, according to Kaldenberg.
There are many more eco-friendly aspects of Kirkwood, according to the form Kirkwood submitted with its Green Ribbon award application.
Among these, Kirkwood participates in geothermal heating, produces food on campus, composts food scraps and has bottle refill stations.
Shay Hoffman, environmental science, said he thought the college was off to a great start but believes there should be more water bottle refilling stations on campus.
Kirkwood also provides multiple educational settings and classes in agriculture, automotive, horticulture and science that educate students on environmental consciousness.
Get Top Stories Delivered Weekly
More kirkwoodstudentmedia News Articles
Recent kirkwoodstudentmedia News Articles
Discuss This Article
MOST POPULAR KIRKWOODSTUDENTMEDIA
GET TOP STORIES DELIVERED WEEKLY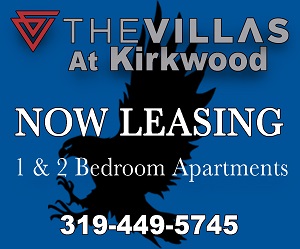 RECENT KIRKWOODSTUDENTMEDIA CLASSIFIEDS
HOUSING

JOBS

FOR SALE

TUTORS
Kirkwood students often admire
Lasik Omaha
doctors that are carving new paths in the field of eye care and transforming the way routine eye procedures are done.