Post Classifieds
The house wins this season
'House of Cards' review
By Daniel Fields
On March 31, 2016
Netflix released the fourth season of its hit show "House of Cards" on March 4.
While the first three seasons of the show often used the inner workings of Washington along with current events as a backdrop for the numerous intrigues of the story – which helped lend a certain air of legitimacy to them – this season takes both the paral- lels and scandals to a whole new level.
The most obvious parallel is to ISIS and the rise of home grown extremism. In the show the Islamic Caliphate Organiza- tion (ICO), is at first written off by President Francis Underwood, albeit for political motives, just as it was largely ignored in reality as well, before morphing into a major threat to national security. The show goes on to parallel the current debate of whether or not U.S. should intervene by sending in ground forces.
Furthermore, "House of Cards" handles the rise of a new type of terrorism, the kind that re- cent attacks in Europe in America have been perpetrated by Euro- pean or American citizens, often operating on their own initiative, launching attacks on their home country. Because these attacks are the hardest to stop, the growing climate of fear, which Francis and his wife Claire seek to exploit, echoes the current one.
However, the show's politi- cal climate resembles the current one in less obvious ways as well. For one, Francis' unconvention- al choice for vice-president, his wife Claire, might have appeared too far-fetched for the show only a year ago, and better suited for ABC's political thriller, "Scan- dal". But with the rise of uncon- ventional candidates like Bernie Sanders and Donald Trump, the unconventional has become the new norm.
However, the message of "House of Cards" has always been that politics is a dirty game. It is a message the show was largely able to convey so success- fully to the viewer because it at least appeared to be grounded in reality. Many Washington insiders are self-proclaimed fans of the show because the backroom dealings and negotiations are so similar to the real ones. In other words it was believable.
In this sense the show's de- cision to depict the machinations of the Underwood's against the backdrop of today's political cli- mate is a good one. However, this season's unprecedentedly scan- dalous nature detracts from this message at times, giving it at best the feel of a modern day Macbeth (especially as Claire begins to manipulate Francis) and at worst a juicy soap opera.
The show's realistic feel has been usurped by a mellow dramatic vibe, which albeit compelling, comes at a price
Get Top Stories Delivered Weekly
More kirkwoodstudentmedia News Articles
Recent kirkwoodstudentmedia News Articles
Discuss This Article
MOST POPULAR KIRKWOODSTUDENTMEDIA
GET TOP STORIES DELIVERED WEEKLY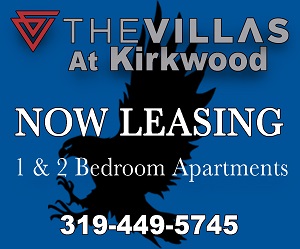 RECENT KIRKWOODSTUDENTMEDIA CLASSIFIEDS
HOUSING

JOBS

FOR SALE

TUTORS
Kirkwood students often admire
Lasik Omaha
doctors that are carving new paths in the field of eye care and transforming the way routine eye procedures are done.