Post Classifieds
Kick off the summer at Kirkwood
By Mbololwa Mundia
On April 14, 2016
With summer quickly approaching, Kirkwood Community College offers a summer camp that benefits not only younger students but families as well.
Kirkwood Interactive Camps for Kids (K.I.C.K.) offers a variety of camps to get kids in the community.
According to Kristin Hanneman, camp director, said, "The age range are from 8-15 the camps are broken up into 8-10 or 11-15, all the camps are within a week and don't exceed five days Monday through Friday."
Hanneman said, "The camps are STEM related, that is science, technology, engineering and math."
She added, "There is also career exploration so kids can try it out to see if it is something they want to do when they grow up. Thankfully the camps that we have are career incentive that kids can start here at Kirkwood, so whether it is welding or a science related class or culinary arts we have everything so someday they can come to Kirkwood for those classes."
K.I.C.K. offers a wide variety of camps for kids with various interests, whether it is photography, web designing, college prep or basic kitchen essentials, where kids are taken to the Newbo Mar- ket to gain hands-on experience.
According to the K.I.C.K. brochure it "...brings new camps every year such as Robotics Factory. This camp will use CNC (Computer Numerical Control), machining, welding and robotics to replicate a real-life factory. Using these technologies, we will start with raw material and transform it into a working part. If you like to be creative and solve prob- lems, this is the camp for you!" The Robotics Factory camp is for kids ages 9-14.
The brochure also provided information about 3D Computer Design. It stated, "...kids learn how to create three-dimensional shapes, structures and anything you can imagine using Autodesk Inventor, a three-dimension- al modeling software. You will start off slow by creating simple shapes, then using that knowl- edge, design structures that sat- isfy challenges like Barbie's new dream house or theme park rides."
Hanneman said, "The camps are set up more like a college class setting to get kids prepared for what it would be like to attend Kirkwood." Kirkwood students have the opportunity to be counselors at the various camps getting the experience to work with kids and promoting their school as well, said Hanneman.
Kirkwood students are encouraged to apply and be a counselor. Hanneman stated, "If stu- dents are almost done with their degree they can apply to be a teacher the next summer."
She added, "It's a great place to drop off kids while parents are in class and we offer scholarships for kids."
To find out more about K.I.C.K. and scholarship infor- mation, visit www.kirkwood.edu/kick.
Get Top Stories Delivered Weekly
More kirkwoodstudentmedia News Articles
Recent kirkwoodstudentmedia News Articles
Discuss This Article
MOST POPULAR KIRKWOODSTUDENTMEDIA
GET TOP STORIES DELIVERED WEEKLY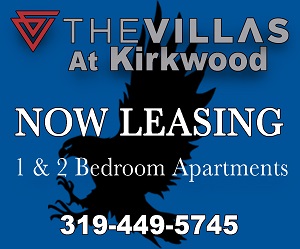 RECENT KIRKWOODSTUDENTMEDIA CLASSIFIEDS
HOUSING

JOBS

FOR SALE

TUTORS
Kirkwood students often admire
Lasik Omaha
doctors that are carving new paths in the field of eye care and transforming the way routine eye procedures are done.