Post Classifieds
Students should use free tutoring
Staff Editorial
By Daniel Fields
On April 20, 2016
Between the Kirkwood Community College tutoring and writing centers, students at KCC are able to receive free and individualized help in almost any subject. While the Writing Center is often great for help with Composition and Literature papers, students are able to receive advice on their writing regardless of the subject matter.
Tutoring Services offers daily walk-in tutoring for math and science and students can request individualized help for almost any subject through one-on-one peer tutoring. Nonetheless, walk-in tutoring often offers students plenty of customized, one-on-one help, in an up-to-date facility all in a timely manner. Furthermore, it offers students the opportunity to drop by at their own convenience, as it is available throughout most of the day.
All this means that Kirkwood offers plenty of assistance to students, regardless of their needs. It's a misconception that tutoring is only for struggling students, although it's certainly great if you are one. Students may in fact just be stuck on a particular problem, in which case walk-in tutoring makes for a great option. Or, they may need regular help in a certain subject, in which case they can utilize up to two free hours (or four if they have a disability) of one-on-one help in up to two subjects.
What makes Kirkwood tutoring so unique is that students are able to receive the personalized attention they may not be able to get in class. For many students this is beneficial, as they are able to learn better this way. There is sometimes a misconception that students who struggle with grades and or find themselves on academic probation are the ones who typically seek out the services. Many colleges charge students who need help with writing and tutoring in various subjects. However, KCC offers many free options to help students succeed.
Students should take advantage of the walk-in tutoring services, individual meetings or group study tables to make the most of their educational experiences at Kirkwood.
Get Top Stories Delivered Weekly
More kirkwoodstudentmedia News Articles
Recent kirkwoodstudentmedia News Articles
Discuss This Article
MOST POPULAR KIRKWOODSTUDENTMEDIA
GET TOP STORIES DELIVERED WEEKLY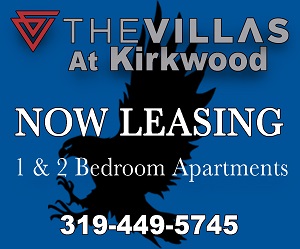 RECENT KIRKWOODSTUDENTMEDIA CLASSIFIEDS
HOUSING

JOBS

FOR SALE

TUTORS
Kirkwood students often admire
Lasik Omaha
doctors that are carving new paths in the field of eye care and transforming the way routine eye procedures are done.