Post Classifieds
Library reflects on 50 years of change
By Hillary Omitogun
On May 2, 2016
Bottom: Floppy disks are part of the library's display on how technology during Kirkwood's first 50 years. Top: A roll of 35 mm film and a cassette tape are also part of the library's display. Photo Credit: Jeff Sigmund
In addition to putting up banners around campus in recog-nition of Kirkwood Community College's 50th anniversary and releasing a time capsule from 25 years ago, several departments have been asked to exhibit pieces that signify the history of Kirk-wood.
The Kirkwood library, which was established in 1967, is one of many areas of campus that have displayed pictures and artifacts from many years ago.
Julie Petersen and Sarah Uthoff worked on the showcase at the library while Kirkwood Ar-chivist Jill Miller helped with the archives. They said they divided the historical displays into four categories:
The place: This reveals plac-es the library has been located in the past and features photographs of these places.
According to Uthoff, the li-brary has had three different loca-tions and several name changes. It was located fi rst at Hawkeye plaza, known today as the Grant Wood area education agency and was called the learning resource center (LRC).
In 1977, it was then moved to what was at the time, a brand new Benton Hall. The last move was a less severe one, the library was only remodeled into what it is today. It was named Kirkwood Library Services in 2010.
The Milestones: This unveils a timeline of some of the key changes the library has experienced over the past few years. The library started with holding 5,200 volumes in 1967 to 44,185 volumes in 2016 and from being open for 77 hours weekly in 1969 to 84 hours per week.
In 1966, card catalogs were used to locate books. This has changed from library corps in 1986, VTLS in 1993 and Voger in 2001 to WMS in 2014.
In 2006, Kirkwood students had no access to eBook databases via the library but this has since changed, as students now have access to four eBook databases.
Petersen mentioned that the transition of the library catalog from Voyager to WorldCat was one of the biggest changes that was made recently. "This was a big change because it gave us, and students, more visibility to books and articles that are avail-able outside of the Kirkwood li-brary," she said.
The Technology: This category focuses on the technological upgrade in America over the past few decades and its effect on the library. "Students now communicate with us via email or phone call and not just in person as it used to be a while ago," Uthoff, who has been a librarian at Kirkwood for 10 years, stated.
Online databases have now taken the place of paper indexes, microfilm and microfiche. Desk-top computers and laptops are now being used, instead of electric typewriters and word proces-sors.
The library has switched from letting students save cop-ies of fi les on 1.2-1.44 megabyte fl oppy discs, 100 megabyte zip drives and 700 megabyte CDs to fl ash drives ranging from 4-64 gigabytes. 35mm slides and film-strips are no longer conventional visuals as PowerPoint, videos and DVDs have taken their place.
The People: This is the final category and it includes photos and names of library directors, librarians and work study students who have helped out over the years. The library has had four directors through the years: Maude Jahncke, Jill Miller, Jerrie Bourgo and the current one, Arron Wings, whom Uthoff said was a major force behind the remodel.
As mentioned in the display, the Kirkwood library adheres to the mission of the college by identifying the information needs of students and staff, providing accessible quality library resourc-es and services and teaching information literacy skills for life-long learning.
"We are very proud of our commitment to answering chang-es in student needs. We are also proud of our customer driven service and having librarians with Masters degrees available on the reference desks without making students go through another layer first as they often do at other institutions," Uthoff concluded.
1967 – Library opens in the Hawkeye Plaza
1973 – The library subscribed to three papers it still gets today: The Gazette, New York Times and Des Moines Register.
1977 – Library moves to Benton Hall
1980 – Curriculum Planning lounge opens
1982 – The library offers Bibliographic Retrieval Ser-vices (BRS) databases, including Medline 1983 – The library subscribes to the Wall Street Jour-nal
1986 – Library gets first online catalog
2000 – Starts subscription to Ebscohost database
2008 – Library started a blog (LibBlog)
2010 – Started Facebook page, YouTube account, Lib-Guides to collect information for students and faculty on a given subject and converted to an electronic sys-tem to keep statistics
2011 – Library purchases fi rst ebook system
2014 – Online access to Encyclopedia Britannica
2015 – Started Twitter and blog based newsletter
2016 – Provides access to four ebook databases
Get Top Stories Delivered Weekly
More kirkwoodstudentmedia News Articles
Recent kirkwoodstudentmedia News Articles
Discuss This Article
MOST POPULAR KIRKWOODSTUDENTMEDIA
GET TOP STORIES DELIVERED WEEKLY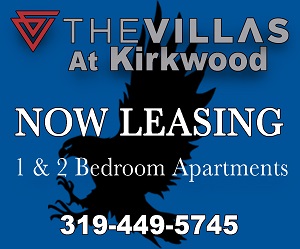 RECENT KIRKWOODSTUDENTMEDIA CLASSIFIEDS
HOUSING

JOBS

FOR SALE

TUTORS
Kirkwood students often admire
Lasik Omaha
doctors that are carving new paths in the field of eye care and transforming the way routine eye procedures are done.