Post Classifieds
Are the new Disney movies too violent for kids?
Point counter point
By Daniel Fields, Mbololwa Mundia
On May 3, 2016
Some believe that movies meant for kids, or at least movies that appear to be meant for kids, feature too much adult content, for at least one demographic, children.
Take Disney's remake of "The Jungle Book" for instance – a markedly different adaptation of the book by Rudyard Kipling, than the cartoon version. While the movie is void of the blatant sexual content and graphic violence that would undoubtedly be inappropriate for a kid's movie, "The Jungle Book" does feature a level intensity that may perhaps be overwhelming for very young children.
Many parents may feel in light of this that they don't know what they can and can't take their children to see.
However, if parents are uncertain as to what is and isn't appropriate for their child, there is an easy solution: the rating system. Rather than blaming Disney for releasing a PG-13 movie that seemed like it would be an use the rating system to find out if it is in fact a good choice.
That's why it's there. Not only does the rating system suggest parental guidance when necessary, it tells would be movie goers what exactly may be inappropriate for a younger audience.
Another sometimes overlooked aspect is that the Jungle Book was a didactic novel, and its movie adaptation is no different. It teaches us about loyalty, prejudice, and belonging, among other things. These are serious themes that deserve to be taken seriously.
To take out Sher-Khan's violence (which I must remind the reader, is not gory) would be to take something away from the movie as well. It teaches us about the destructive nature of prejudice.
Hence while elements of the movie may at times seem too heavy for younger children, they are there for a reason, and to take them out would be to take something away from the value and meaning of the film.
And if parents are in doubt as to whether or not the content is acceptable for very young children, they can always look to the rating system (or even movie reviews) to find out.
A new trend has come about from movies to music and TV shows the term "throwback" is thrown back a lot.
The term "throwback" means bringing back something from the past to remember a previous memories. This applies to social media, TV shows and movies.
Some people remember fairy tales to have a softer feel and a loving impact on families and children but now most of these movies are being cautioned as too graphic for young viewers. And, I agree.
For example "Snow White," a story about a young girl whose evil step-mother orders a huntsman to kill Snow White in the woods because she is jealous of her beauty. The Queen later finds out that Snow White is still alive.
Today the story has more twists and plots, with "Snow White and the Huntsman" that came out in 2012.
The story is more about the Huntsman fulfilling what he promised the Queen from the original story but the Huntsman made a deal with the Queen.
If he were to find and kill Snow White, the Queen would bring him back to life.
The Huntsman later finds out that the Queen wouldn't do such a thing and he begins to start training Snow White to battle the Queen.
"Snow White" is just one of the movies that are making a comeback with more violence and more weaponry being used in order to win.
The moral of the story that good always triumphs over evil is still the same. The main characters are kept the same but the duration including the middle, climax and denouement are not the same.
Children are being exposed more and more to violence with social media and video games and now movies as well.
Children's movies are becoming more and more graphic, with the use of special features and using real actors. This leaves unsettling thoughts in kids' heads and desensitizes them to violence in real life.
Disney needs to throwback to the happy endings of previous days.
Get Top Stories Delivered Weekly
More kirkwoodstudentmedia News Articles
Recent kirkwoodstudentmedia News Articles
Discuss This Article
MOST POPULAR KIRKWOODSTUDENTMEDIA
GET TOP STORIES DELIVERED WEEKLY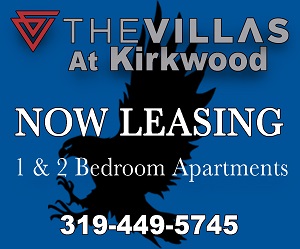 RECENT KIRKWOODSTUDENTMEDIA CLASSIFIEDS
HOUSING

JOBS

FOR SALE

TUTORS
Kirkwood students often admire
Lasik Omaha
doctors that are carving new paths in the field of eye care and transforming the way routine eye procedures are done.