Post Classifieds
Student awareness can prevent suicide
By Enzo Nagao
On October 19, 2016
It is a statistic that all students have heard before. Approximately 1,100 college students commit suicide every year, making it the second highest cause of death for people aged 15 – 34, according the Center for Disease Control. To raise awareness, Active Minds placed 1,100 white flags outside Iowa Hall on Oct. 4.
"A lot of students wait to talk about it [depression] until midterm time, when they're very overwhelmed," said Angie Ziesman Weiler, a counselor at Kirkwood Community College. "Of course, we can still help students at that point but if they're going to classes, it's harder to get them back on track if they haven't seen anyone for a while and are struggling."
With school work slowly but surely beginning to pile up, as well as the stress for many first-time college students regarding being away from home and having complete freedom, feelings of stress and anxiety, not to mention suicide, can be common, according to Ziesman Weiler.
On Aug. 16, a few days before the start of the fall semester, Cedar Rapids Police Department Special Response Team members successfully talked down a potentially suicidal subject, closing off Kirkwood Boulevard during the tense discussions, according to KCRG. Whereas the suicide rate isn't as high at Kirkwood, many larger schools throughout the country struggle with rashes of student suicides.
"Paying attention to signs if you're a friend or roommate can be important," said Ziesman Weiler.
She continued, "Noticing that someone is withdrawing, shutting down or just not having that much interest in things anymore is very important. It affects appetite and sleep and a lot of it is just people losing hope in things. Hope is huge when it comes to mental health issues, and it's important to know that things will change and things will get better."
Ziesman Weiler added, "Unfortunately, there's sort of this stigma regarding mental illness and people aren't talking about it but it's going on; and people are feeling isolated and alone in this, even though there are other people going through this."
Kirkwood offers a host of options for students who may be feeling stressed or suicidal and all of them are completely free of charge. Kirkwood counselors offer guidance and advice for concerned students and events are hosted frequently with the aim of steering students away from life-ending decisions.
"It's tough for a lot of students because they suddenly have a lot of freedom and figuring out how to manage your time when nobody's keeping track of you and figuring out that balance between priorities and having fun can be very taxing," said Ziesman Weiler.
Students seeking immediate suicide prevention services can contact the 24-hour Foundation 2 hotline at 319-362-2174 or 800-332-4224. For more information regarding Kirkwood's counseling services or emergency resources, visit www.kirkwood.edu/counseling.
Get Top Stories Delivered Weekly
More kirkwoodstudentmedia News Articles
Recent kirkwoodstudentmedia News Articles
Discuss This Article
MOST POPULAR KIRKWOODSTUDENTMEDIA
GET TOP STORIES DELIVERED WEEKLY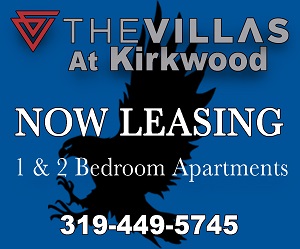 RECENT KIRKWOODSTUDENTMEDIA CLASSIFIEDS
HOUSING

JOBS

FOR SALE

TUTORS
Kirkwood students often admire
Lasik Omaha
doctors that are carving new paths in the field of eye care and transforming the way routine eye procedures are done.