Post Classifieds
Paranormal instructor explains what happens after death
By Alex Estes
On October 19, 2016
For many, the idea of people roaming the Earth long after their death is nothing but a fevered dream; however, those who have had eccentric experiences, or those who just want answers, flock to Darcie McGrath's paranormal studies class for explanations. Skeptics and believers alike attend the class every other weeknight, looking for something they may not able to see with the naked eye.
Darcie McGrath, the paranormal studies instructor at Kirkwood Community College, teaches many different concepts on the paranormal in her class. "A lot of what I do is based in parapsychology… the study of human consciousness and the study of the distance of the consciousness after death," said McGrath.
What happens after death is foggy for most and by studying parapsychology McGrath said she and her students are determined to make sense of it. McGrath also leads paranormal investigations where she employs many different methods of contacting those who have passed on. "We [make] use of electronic voice phenomenon. We are able to pick up sounds that we are not always able to hear," she said. Using digital recording devices, she said she is able to have interviews with spirits and ghosts.
These interviews don't take place in real time however. On her investigations she will ask questions while the recorder is active, in hopes of picking up sounds or voices that humans aren't able to hear. Also assisting McGrath on her investigations are mediums, or psychics. Mediums are able to open their consciousness up in order to contact spirits.
According to McGrath, paranormal investigations are typically conducted for clients who notice that something about their home isn't quite right, and they want answers. McGrath stated, "Ninety to 98 percent [of spirits] are human beings who are still here on this plane…They may have died suddenly or may be a family member who is very worried."
These spirits can be identified as people who have once lived because they often communicate details about their past life and are able to give investigators the idea that they have lived before, according to McGrath. "The other 2 to 10 percent are harder to determine. They may not be speaking in a recognizable language, or are not talking about any life before death," McGrath said.
McGrath said she was inspired to teach this class for many different reasons. "There's a lot of misinformation out there about this subject matter," said McGrath. Many don't realize that the content on television doesn't show most of the real paranormal investigations that take place, she added.
Investigators may stay at a location for hours on end to gather data, but T.V. stations will condense it into a small portion of what actually occurred. "It's also important for people to know the science that's being developed behind it," McGrath said.
Many paranormal investigators are also working to discover new ways to contact spirits. She said, "Spirits are everywhere. They can be at the grocery store or on the sidewalk." While these ideas may be hard to prove but there are countless people who have had brushes with the paranormal and want explanations, McGrath added.
Get Top Stories Delivered Weekly
More kirkwoodstudentmedia News Articles
Recent kirkwoodstudentmedia News Articles
Discuss This Article
MOST POPULAR KIRKWOODSTUDENTMEDIA
GET TOP STORIES DELIVERED WEEKLY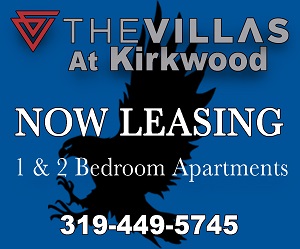 RECENT KIRKWOODSTUDENTMEDIA CLASSIFIEDS
HOUSING

JOBS

FOR SALE

TUTORS
Kirkwood students often admire
Lasik Omaha
doctors that are carving new paths in the field of eye care and transforming the way routine eye procedures are done.