Post Classifieds
Some simple Thanksgiving recipes
On November 16, 2016
Editor's note: Recipes were submitted by Kirkwood Community College students
Butternut Squash Stuffing
Prep time: 20 minutes
Cook time: 40 minutes
Servings: 2
Ingredients:
3 cups stuffing bread (eggless and milk-less for vegans)
3 tablespoons canola oil
½ cup butternut squash (diced)
½ a red apple (diced)
1 shallot (diced)
½ cup celery (diced)
¾ cup vegetable stock
1 teaspoon rosemary
½ teaspoon thyme
½ teaspoon sage
Salt and pepper to taste
Directions:
Preheat your oven to 400 degrees Fahrenheit, and coat the squash and apples in canola oil. Place them on a baking sheet and roast in the oven until slightly singed, about 10 to 15 minutes.
While the squash and apples are in the oven, begin sautéing the celery and shallot in a frying pan. Add in the salt, pepper, sage, rosemary, and thyme.
Once the shallot and celery are translucent, toss in the stuffing bread and allow them to turn golden brown. This takes about 3 to 5 minutes.
Take your squash and apples out of the oven, and add them to the mixture, along with the stock. Stir until the stock it is fully absorbed by the bread.
Turn your oven down to 350 degrees, and place the dressing mixture on a baking sheet or in a casserole dish. Place this in the oven and allow it to bake for 20 minutes.
Vegan Thanksgiving Gravy
Prep time: 5 minutes
Cook time: 5 minutes
Ingredients:
1 tablespoon Earth Balance Buttery Spread
1 tablespoon all-purpose unbleached flour
1 pinch salt
1 teaspoon black pepper
1 teaspoon poultry seasoning
¾ cup vegetable stock (may substitute with a mushroom broth or any vegan chicken broth)
Instructions:
Melt the buttery spread over medium-high heat. Once it's melted, add the flour and stir to make a roux. The roux should have a paste-like consistency once combined.
Add your stock or broth of choice, salt, pepper, and poultry seasoning. Bring the mixture to a simmer, stirring constantly. The mixture will thicken up into a gravy within one to two minutes of stirring. Remove it from the heat once it thickens.
This gravy should be served with freshly made or store bought instant mashed potatoes. If your instant potatoes call for milk and margarine, substituting these ingredients will keep the meal vegan. Any non-dairy milk (ex. unsweetened almond milk) and Earth Balance Buttery Spread can be used in place of the typical milk and margarine. ​
Turkey Recipe (recipe was provided by thekitchn.com and enhanced by Aunt Deb and Aunt Sue)
Ingredients & Utilities:
Pop-up Thermometer (if the turkey doesn't already come with one)
Turkey Baster
1 Frozen Butterball Turkey
Minced Garlic
Salt
Pepper
Butter
Instructions:
Thaw out the turkey per instructions on the bird. Thaw time will vary by size. Preheat your oven to 325 degrees Fahrenheit. Roast the turkey for two and a half hours initially (for a normal 8-12-pound turkey). Then check that the inside of the turkey is 100 degrees and take it out. Remove the giblets and trussing (the plastic bag inside the bird and the ties of the wings/legs), brush with melted butter, salt/pepper the top of the turkey generously, add a little bit of minced garlic, and then pour out the juices. The turkey will be put back into the oven to roast for about another two hours. Remember to baste the bird while it's roasting! The meat in the middle of the turkey should be 165 degrees before taking it out.
Get Top Stories Delivered Weekly
More kirkwoodstudentmedia News Articles
Recent kirkwoodstudentmedia News Articles
Discuss This Article
MOST POPULAR KIRKWOODSTUDENTMEDIA
GET TOP STORIES DELIVERED WEEKLY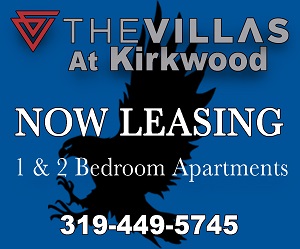 RECENT KIRKWOODSTUDENTMEDIA CLASSIFIEDS
HOUSING

JOBS

FOR SALE

TUTORS
Kirkwood students often admire
Lasik Omaha
doctors that are carving new paths in the field of eye care and transforming the way routine eye procedures are done.