Post Classifieds
Arrival spectacularly brings common issues to light
By Ben Stopka
On December 16, 2016
Arrival is a new science fiction and mystery movie starring Amy Adams, Jeremy Renner and Forest Whitaker. It was released on November 11 and has received over $73 million with only a $47 million budget.
IMDb gives a brief synopsis of the plot on their website, saying in Arrival, "A linguist is recruited by the military to assist in translating alien communications." Adams plays the fictional linguist Louise Banks and is recruited by Colonel Weber (Whitaker) when aliens touch down to Earth in spaceships similar to giant, black pods.
Banks, Weber and physicist Ian Connelly (Renner) are sent to Montana to lead a team in hopes that they can communicate with the extraterrestrial beings. The movie records their attempts at peaceful negotiation while tension rises across the planet.
The film gives a wonderful display of the A-list actor's talents. Amy Adams plays the linguist phenomenally, giving the notion that she really does know the topics that she speaks of. She also portrays the worried and disturbed emotions that Banks is experiencing very well. Jeremy Renner gives a good performance and provides a bit of comic relief as well with his likeable character at the start of the movie, which is much needed in this particular project.
The film work of the movie is also very well-done, using a clear gray tone throughout that brings a mysterious feeling to the audience. The camera showed lots of quality angles and shots that forms this movie into an art piece. There is slight use of CGI for the aliens and their ships, but it is neither overdone nor unrealistic.
The story itself is very intricate, multi-faceted and captivating. It brings a lot of common issues to light, such as xenophobia, international relations and the importance of communication. The audience members will feel what Banks is feeling as she faces this threat, distrusting the aliens and their motives, yet still sympathizing for them and wanting to find a peaceful solution. The plot takes a confusing turn, however, that could almost rival Inception. It incorporates more than meets the eye, and can be much too confusing for those that have a hard time picking up on small details.
Arrival is a spectacular movie and is definitely one that should be seen in the theaters before it disappears, though it is not suggested for those who value simple plotlines.
Get Top Stories Delivered Weekly
More kirkwoodstudentmedia News Articles
Recent kirkwoodstudentmedia News Articles
Discuss This Article
MOST POPULAR KIRKWOODSTUDENTMEDIA
GET TOP STORIES DELIVERED WEEKLY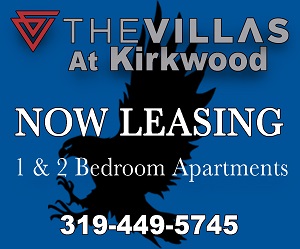 RECENT KIRKWOODSTUDENTMEDIA CLASSIFIEDS
HOUSING

JOBS

FOR SALE

TUTORS
Kirkwood students often admire
Lasik Omaha
doctors that are carving new paths in the field of eye care and transforming the way routine eye procedures are done.