Post Classifieds
The length of Winter Break is just right
By Ben Stopka
On December 19, 2016
Students at Kirkwood Community College are given from Dec. 16 until Jan. 17 to go home, spend time with family, enjoy the holidays and relax. It is also time to prepare for the upcoming semester.
Those who are unhappy with how winter break is set up say a full month is too long and that it causes students to get lazy. These arguments are wholly unrealistic, with no evidence to support them. Students that have never had such a long break are very excited to experience their first Winter Break at Kirkwood. It's a well-needed break that helps students wind down and get rid of the stress from the first semester.
Some students have homes to go to that are located at distances which are not reasonable for two week breaks. Students should be able to spend as much time with their family and friends over the break that they can get in. Understandably, not everyone experiences these issues. A lot of people that attend Kirkwood live in the surrounding area and are able to see their family frequently.
A long break is a benefit, not a vice. It allows students to work more than during the semester. There are also Winter Semester classes offered through Kirkwood that students can complete to get some extra credits in. Students are not the only ones to gain from a month-long break. Instructors and other faculty members are able to stay home, spend time with their families, and do the things that they're too busy to do during the semester. They also need time to relax.
The Winter Break at Kirkwood is a month-long because a majority of people don't want it to change. The length of the vacation is needed. If a petition were to be sent in, there is no doubt in my mind that a month would still be the holiday length.
Get Top Stories Delivered Weekly
More kirkwoodstudentmedia News Articles
Recent kirkwoodstudentmedia News Articles
Discuss This Article
MOST POPULAR KIRKWOODSTUDENTMEDIA
GET TOP STORIES DELIVERED WEEKLY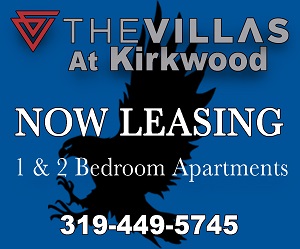 RECENT KIRKWOODSTUDENTMEDIA CLASSIFIEDS
HOUSING

JOBS

FOR SALE

TUTORS
Kirkwood students often admire
Lasik Omaha
doctors that are carving new paths in the field of eye care and transforming the way routine eye procedures are done.