Post Classifieds
Iowa's changing Winter climate
By Brian S. Tapken
On December 19, 2016
Contrary to what most non-climate or weather-watching Iowan's may consciously perceive or acknowledge, the winter climate in the state of Iowa is changing in many scientifically measurable ways. Many different governmental agencies and research universities have the data to support this conclusion. The data cover time periods of the past (paleo-climatology) approximately 12,000 years before present to the mid-19th century to the present 2016.
Although there is radical yearly variability in regional temperatures, there are multiple points in time when temperature shifts have occurred; average temps have increased overall since 1900. Annual temps have increased approximately .059 degrees per decade from the period covering 1900-2010.
Among the regional impacts of the recent warmer winter temperatures is a reduction in the amount and duration of ice cover on lakes across the Midwest region, including the Great Lakes. This trend is well documented by several scientists which point to an increasingly later onset of first ice cover on inland lakes in the region by 6-11 days since the middle of the 19th century and an increasingly earlier breakup of ice in the spring (from 2-13 days) during the same period.
While changes in precipitation have been generally consistent for the time period 1895-2010 across states within the region, a relatively greater proportion of the regional warming occurred during the winter and spring seasons. Just as importantly, much of the warming has been taking place with warmer nighttime temps.
The data shows that average seasonal snowfall decreased across the far southern regions, remained the same across the central regions and increased in the northern areas. Similarly, trends in the frequency of major snowstorms varied widely across the region during the period of 1901-2000, with downward or drier trends across southern sections and upward or wetter trends across the northern areas.
Surely, going by scientific research and natural observations, these changes are just the beginning of the adverse consequences of climate change to watch out for in the future.
Get Top Stories Delivered Weekly
More kirkwoodstudentmedia News Articles
Recent kirkwoodstudentmedia News Articles
Discuss This Article
MOST POPULAR KIRKWOODSTUDENTMEDIA
GET TOP STORIES DELIVERED WEEKLY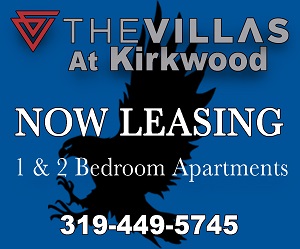 RECENT KIRKWOODSTUDENTMEDIA CLASSIFIEDS
HOUSING

JOBS

FOR SALE

TUTORS
Kirkwood students often admire
Lasik Omaha
doctors that are carving new paths in the field of eye care and transforming the way routine eye procedures are done.