Post Classifieds
No Financial Aid a burden for some
Students who don't receive assistance pay for own expenses
By Paityn Viall
On January 26, 2017
When students receive Financial Aid, they are encouraged to use that money to purchase textbooks and other school supplies but some students don't receive any Financial Aid, which means all additional college expenses must be paid out of pocket. This is the case for many college students all over the United States, as well as at Kirkwood Community College.
Abby Copeland, Liberal Arts major said, "I have been trying to get financial aid since the beginning of last semester, but it just hasn't worked out yet."
According to collegeboard.org, "In 2014-15, about two-thirds of full-time students paid for college with the help of Financial Aid in the form of grants and scholarships."
While this includes a majority of college students, it still leaves thousands of students each year with very little to no financial help for college.
In many of these cases, students do not qualify for Financial Aid for a variety of reasons. However, in some instances, students may simply forget to apply or the application is completed after the deadline has passed.
"I actually registered too late to receive Financial Aid last semester," said Gary Heckart, a former Kirkwood student.
"I had to pay out of pocket with the money I had earned from working, along with a little help from my parents," Heckart added.
Whatever the case may be, students without Financial Aid still have options. Comparing prices at different stores for textbooks as well as other school supplies can help students avoid overpaying and allow them to save money.
Making sure needs are taken care of before wants and looking for job opportunities are also beneficial.
Kirkwood and nearby businesses often have employment opportunities for college students. Bulletin boards placed around campus include postings for job opportunities and workshops about how to apply for a job or create a resume.
The Kirkwood One Stop office offers help if students are unsure where to begin. The One Stop office is located on the second floor of Kirkwood Hall and is open Monday- Friday 8 a.m.- 5 p.m. Students can also email the office at financial@kirkwood.edu for additional information.
Get Top Stories Delivered Weekly
More kirkwoodstudentmedia News Articles
Recent kirkwoodstudentmedia News Articles
Discuss This Article
MOST POPULAR KIRKWOODSTUDENTMEDIA
GET TOP STORIES DELIVERED WEEKLY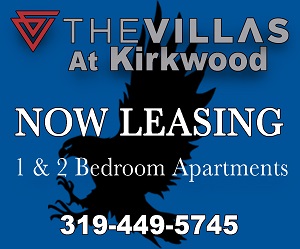 RECENT KIRKWOODSTUDENTMEDIA CLASSIFIEDS
HOUSING

JOBS

FOR SALE

TUTORS
COLLEGE PRESS RELEASES
Kirkwood students often admire
Lasik Omaha
doctors that are carving new paths in the field of eye care and transforming the way routine eye procedures are done.