Post Classifieds
The sounds of Trinidad and Tobago come to KCC
Director of Instrumental Music starts Steel Band
By Michelle Lindsey & David Kepler
On February 8, 2017
Steel Band is now a music option that can be taken as a one credit hour class at Kirkwood Community College. The band meets Mondays and Wednesdays, 12:20 - 1:15 p.m. in 375 Cedar Hall. Joe Perea, instructor and director of instrumental music, leads the Steel Band.
According to Perea, Steel Band is, "an art form that comes from the island nation of Trinidad and Tobago in the Caribbean, based on instruments that are crafted out of 55-gallon oil barrels."
It's an area of personal expertise he brought to KCC and said he builds and tunes the instruments himself. Perea said, "There are some instruments that we had imported from Trinidad and Tobago and then there are others that I have built that comprise part of the ensemble that we use."
Perea said he wanted to bring Steel Band to Kirkwood because he wanted to expand the course offerings for ensemble music. He said, "It gives us a chance to introduce the concept of world music and how it pertains to a culture."
Perea said he has had students come up to him excited about the Steel Band because they were able to try the instruments at other local colleges and the sound is such a unique experience. He said, "The instruments have that really magical sound to them and people hear that and realize this is something that's been made out of a garbage can in a city park and has been transformed into this really neat sound."
There are currently about 12 students involved in Steel Band at Kirkwood and Perea said he has additional instruments for students, faculty, staff and members of the community who are interested in trying it out.
"I've taught this for years with people who have never played a musical instrument before but have always wanted to try something. It's instant gratification, you take the stick and you tap the note and it makes a great sound. It ends up being a good instrument for people of all backgrounds, of all levels," he said.
The Steel Band is working toward a performance in The Café area in the spring, as well as a joint performance with Cornell College in Mount Vernon. For more information or questions contact Joe Perea at joe.perea@kirkwood.edu or leave a voice mail at 319-398-5598.
Get Top Stories Delivered Weekly
More kirkwoodstudentmedia News Articles
Recent kirkwoodstudentmedia News Articles
Discuss This Article
MOST POPULAR KIRKWOODSTUDENTMEDIA
GET TOP STORIES DELIVERED WEEKLY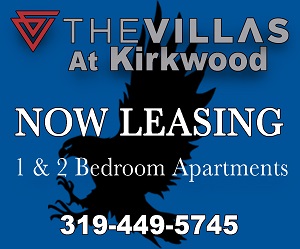 RECENT KIRKWOODSTUDENTMEDIA CLASSIFIEDS
HOUSING

JOBS

FOR SALE

TUTORS
Kirkwood students often admire
Lasik Omaha
doctors that are carving new paths in the field of eye care and transforming the way routine eye procedures are done.