Post Classifieds
Seasonal flu shots at Campus Health
Kirkwood offers $15 flu shots to students
By Amos Finger & Joey Verstegen
On March 8, 2017
Campus Health, at Kirkwood Communtiy College, is offering a flu shot year-round to all students attending Kirkwood.
"The flu is spread by respiratory droplets, coughing, and sneezing," said Campus Health Nurse Kim Pritts. "The droplets are most dangerous when they get into your eyes, nose and mouth."
Pritts said she advises students to wash their hands frequently. She said, "One of the biggest keys is washing your hands. While you always hear people saying that, it truly becomes important this time of year when things are going around."
According to the Iowa Influenza Surveillance Network (IISN), "The most frequently identified influenza virus type reported by public health laboratories Feb. 19 - 25 was influenza A (H3)." The IISN is a branch of the Iowa Department of Public Health and has a website where students can find area specific information, including weekly activity reports and helpful tips and suggestions for avoiding the flu. The IISN information can be found by going to: http://idph.iowa.gov/influenza/surveillance.
Kendra Krause, Kirkwood Allied Health advisor, said, "There are actually two types of flu. One is known as stomach flu where you are vomiting and maybe have diarrhea. The other is the influenza where you have a high fever, upper respiratory symptoms, and body aches."
Pritts added, "If you know someone who knows they are sick it is in one's best interest to stay home to help prevent it from spreading even more. When someone has a fever, they should stay home until it has been 24 hours after they got it."
Pritts said getting the flu shot from Kirkwood is one of the best options if students have to pay out of pocket. The flu shots are $15 for students. Campus Health is located in 132 Iowa Hall and is open Mon.-Fri. from 9 a.m. to 3 p.m.
Get Top Stories Delivered Weekly
More kirkwoodstudentmedia News Articles
Recent kirkwoodstudentmedia News Articles
Discuss This Article
MOST POPULAR KIRKWOODSTUDENTMEDIA
GET TOP STORIES DELIVERED WEEKLY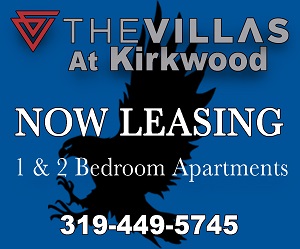 RECENT KIRKWOODSTUDENTMEDIA CLASSIFIEDS
HOUSING

JOBS

FOR SALE

TUTORS
Kirkwood students often admire
Lasik Omaha
doctors that are carving new paths in the field of eye care and transforming the way routine eye procedures are done.