Post Classifieds
Travel ban creates further tensions in U.S.
By Brian Tapken
On March 8, 2017
Recently, the Trump administration in one its first executive orders issued a travel ban on incoming refugees from Syria, green card holders and other groups legally in the country, thereby preventing those from returning to the U.S. from overseas trips.
Despite warnings from many national security veterans and from several federal agencies that the measure would hinder various national security efforts in many parts of the world, These efforts are could possibly not have the outcome desired. Especially in areas of the Middle East where the U. S. and several of its allies are conducting military operations against the terrorist organization known as ISIS throughout Iraq and Syria.
Those officials representing both past Republican and Democratic administrations have also warned about several other national security ramifications as a result of the ban. Shortly after the ban was issued, in a victory for human rights advocates, a Federal District judge in Washington State, the Hon. James Robarts issued a stay temporarily placing a hold on the executive order.
The executive order was subsequently blocked in a decision by the Ninth Circuit Court of Appeals that upheld the stay of the executive order. In a related national security matter, Gen. James Flynn has, as of Feb, 13, resigned as President Trump's first national security advisor.
According to both Congressional and Senatorial sources, this development could lead into further investigations as to Trump's interactions with Russian President Vladimir Putin and other Russian officials who have cast a public controversy as to Russian interference in last November's U.S. presidential election. To this date, no less than six Congressional and Senatorial investigations have been brought forward in the nation's capital to enlighten the American public and to move forward with the people's business at hand.
Get Top Stories Delivered Weekly
More kirkwoodstudentmedia News Articles
Recent kirkwoodstudentmedia News Articles
Discuss This Article
MOST POPULAR KIRKWOODSTUDENTMEDIA
GET TOP STORIES DELIVERED WEEKLY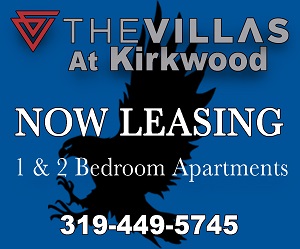 RECENT KIRKWOODSTUDENTMEDIA CLASSIFIEDS
HOUSING

JOBS

FOR SALE

TUTORS
Kirkwood students often admire
Lasik Omaha
doctors that are carving new paths in the field of eye care and transforming the way routine eye procedures are done.