Post Classifieds
Tips to maintain grades during midterms
By Paityn Viall
On March 8, 2017
With midterms approaching, many college students struggle to keep up their grades. These students ofte
n have difficulty finding the motivation to complete assignments and study for upcoming exams.
Jasmine Reuter, electroneurodiagnostic major at Kirkwood Community College, said she is one of these students but has come up with a way to boost her daily motivation.
"It's really hard staying motivated, to be completely honest. I had to start writing my goals on my closet door so that I can see them every morning," said Reuter.
Along with creating goals is planning. According to usnews.com, "Part of getting good grades is balancing the various things you have to do, week by week." Planning ahead can allow students to make time for all assignments, as well as school activities and work.
There are many ways a student can balance their time. It does not have to be a "one size fits all" process. Some students choose to set reminders on their cellphone, while others write everything down on an agenda or a calendar.
It is also important when maintaining good grades not to take on too much. Advisors here at Kirkwood encourage students to take on only what they can comfortably handle, while still maintaining a steady pace toward graduation or transferring to another school.
According to usnews.com's recommendation, "Take four, or at the most, five courses each semester." Students are encouraged to work with their assigned academic advisor before registering for classes to ensure success at Kirkwood Community College.
Get Top Stories Delivered Weekly
More kirkwoodstudentmedia News Articles
Recent kirkwoodstudentmedia News Articles
Discuss This Article
MOST POPULAR KIRKWOODSTUDENTMEDIA
GET TOP STORIES DELIVERED WEEKLY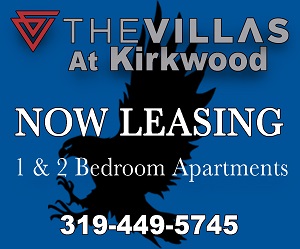 RECENT KIRKWOODSTUDENTMEDIA CLASSIFIEDS
HOUSING

JOBS

FOR SALE

TUTORS
Kirkwood students often admire
Lasik Omaha
doctors that are carving new paths in the field of eye care and transforming the way routine eye procedures are done.