Post Classifieds
Volunteering provides many benefits
By Staff Editorial
On April 5, 2017
Students at Kirkwood Community College are given many opportunities to volunteer and do service learning projects. Some see these activities as an easy way to get some extra credit for a class, while others see them as resume builders.
Whatever the motivation for volutneering, students should grasp the chance to take part any time their schedule allows it.
Service learning projects and volunteer opportunities can not only provide extra credit and fluff for a resume but can enhance the way a student learns and expand their interests.
Volunteering provides many benefits for the volunteer, the agency or company the volunteer is working with, as well as those who benefit from services the volunteer is providing.
Students come to Kirkwood frequently not knowing what they want to do in life. Many are undecided on their employment goals and volunteering is a way to help complement some interests that students may already have.
For example, a student may volunteer at a non-profit agency that specializes in tutoring. That student may not have a passion for tutoring but it may help them discover that they enjoy working one-on-one with people in a quiet atmosphere rather than in a bustling, crowded area.
Another student may volunteer at a soup kitchen or mobile food bank. They may not enjoy the work but decide that they want to do something more for those people in need of free food services.
Non-profit organizations are almost always in need of volunteers and can work with students to make sure the available times work with their already busy schedules. Most organizations that need volunteers will have multiple options from which to choose.
Students can always talk to their instructors about any volunteer opportunities they may know about. This can provide opportunities for students to volunteer within organizations or programs that they may already be familiar with or have an interest in.
Another outlet for students to go through to look at volunteer opportunities within their area is volunteermatch.org.
This website allows students to filter by which causes they are interested in, as well as by area in which they would like to volunteer.
Get Top Stories Delivered Weekly
More kirkwoodstudentmedia News Articles
Recent kirkwoodstudentmedia News Articles
Discuss This Article
MOST POPULAR KIRKWOODSTUDENTMEDIA
GET TOP STORIES DELIVERED WEEKLY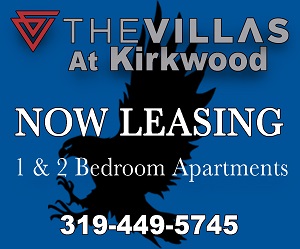 RECENT KIRKWOODSTUDENTMEDIA CLASSIFIEDS
HOUSING

JOBS

FOR SALE

TUTORS
Kirkwood students often admire
Lasik Omaha
doctors that are carving new paths in the field of eye care and transforming the way routine eye procedures are done.